My dog, Tucker, is very good at being a puppy. He still likes to chew occasionally, he jumps up on new people that he meets and he still pulls on the leash when we take a walk. Unfortunately, being a sixty-pound puppy, the leash pulling was proving to be a big problem while pushing a stroller or navigating slippery trails at the same time. I needed something that would help him settle down so that he didn't take me and the baby on a wild ride. I found Premier's Gentle Leader ® EasyWalk ™ by complete accident at a Dog and Cat novelty shop. On a whim I asked the cashier if she had anything to help with this problem and she showed me this wonderful harness.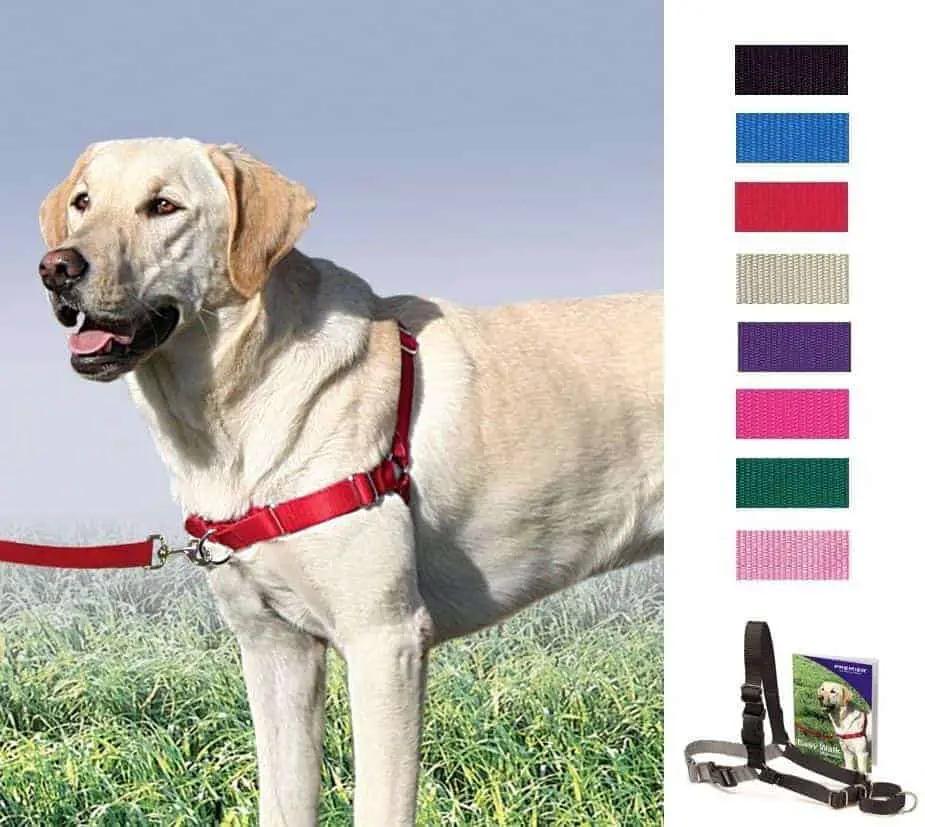 The cashier explained that the EasyWalk™ fits across the chest, over the shoulders and around the ribcage. The leash attaches in between the shoulder blades and gently applies pressure by squeezing the shoulders together when the dog pulls. I was thrilled to find an alternative to a choke collar, because I find them unnecessarily cruel and because I believe that Tucker is just dumb enough to pull until he passes out. So, for the reasonable price of $24 (including VA sales tax) I took one home.
I am pretty skeptical by nature, but being at the end of my leash, so to speak, this was Tucker's last chance at getting regular walks. All I had to do was adjust the straps that went across his chest, and the rest of the straps all snap together with plastic clips. As soon as I put it on him and got it adjusted-both of which were very easy even with a squirming mass of dog flesh, I clipped on the leash and walked around the block. The EasyWalk™ worked immediately. Tucker would start to take off and stop as soon as the slightest pull put pressure on his shoulder blades. He looked back at me as if to ask "What is going on here?" but the entire walk was the same story. Not once did he pull continuously against the leash and not once did I get jerked off balance by an over-eager dog. It was love at first walk.
I have been using the EasyWalk™ for over a month now and the results are still the same. Tucker has not gotten used to the pressure of the harness, so it is still effective. If I had one complaint, it would be that the adjustable strap that lies across the chest of the dog becomes loose too easily, but this very well could be that Tucker is still good at being a puppy and does still pull often-even if it doesn't affect me anymore. The only thing that I have to do is refit him before we walk, which really isn't that big of a deal. I also do not recommend leaving the harness on your dog as Tucker chewed through his when I forgot to take it off of him.
If you have a dog that pulls on the leash and you have said "Heal" until you are blue in the face to no avail, I highly recommend trying one of these EasyWalk™ harnesses. They are available in sizes that range from Chihuahuas to Great Danes and like I mentioned earlier, they are only around $25. I have had several people tell me what a good dog Tucker is when they see him trotting along pleasantly next to the stroller…if only they knew! Check out the Premier website at www.premier.com