The Tale of Patches the Mischief Maker
When I first read the title of Funny Dog Stories For National Dog Day, the story I thought of was one that my mom has told numerous times. All the dogs we've owned have qualified as "large" breed dogs who have never been allowed to jump onto any of the beds or couches. Here's why: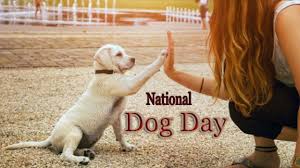 My mom lived with three sisters and all four girls were required to share two bedrooms on the second floor; each having their own bed in that bedroom. Our culprit is Patches. In the only picture I have ever managed to find of her, she has the coloring of a Jack Russell Terrier and the height and facial structure of a Beagle. From other family members, I've never heard anything bad about her. My mom, however, considered her the devil incarnate.
Now, Patches spent a good portion of her day outside and was allowed back into the house once someone was home to make sure she didn't get into mischief. She had plenty of time to run around and do whatever business she had to do while she was outside. But Patches, it seems, had it in for my mom. One day, for example, someone let Patches into the house. Patches ran up the two flights of stairs, got the supposedly closed door open, hopped onto my mother's bed and proceeded to do her business on my mom's bed. It never mattered that she'd been outside for 8 hours…there always seemed to be something left over. In one incident after this had occurred, I've been told that one time my mom was punished because she threw an empty soda bottle at Patches to get her off the bed. Patches was too wily to get hit…but she was an ace at getting my mom into trouble (which I have been told happened repeatedly).