Eleven years ago, I met my first dog at the Jacksonville Humane Society. She was huddled in the corner, a half-chewed up toy at her feet. One of the employees brought the dog out for me so that I could pet her and see if I was interested in taking her home. She was so shy and timid, I fell in love immediately. A few days later, I picked her up. And realized my new dog was a greater actress than Sarah Bernhardt.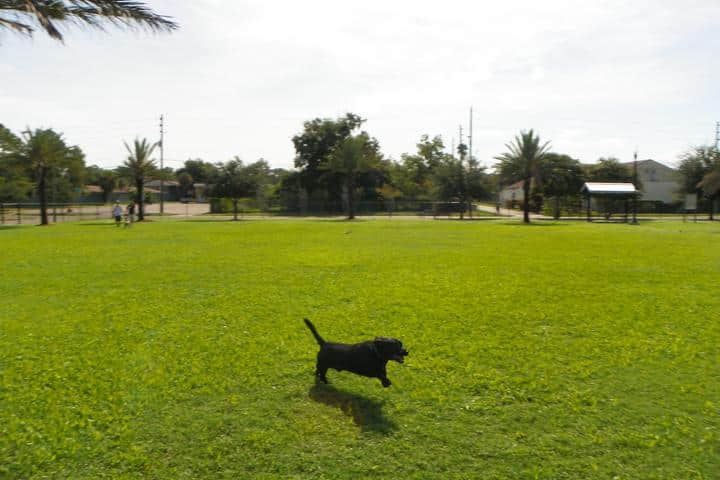 Five minutes in my tiny, single girl apartment and she exploded. She was insane. When I would come home from work my pillows would be in tatters, my books (my books!) shredded, and her dog toys lay, untouched, in a corner. I was in shock. Before this dog, I'd only owned cats.
Luckily, my closest friend at the time got pregnant. My bar hopping seriously curtailed, I decided to finally go on a diet and start exercising. So now my dog's hyperactivity came in handy. Walking on my own was annoying and boring. Walking a dog was fun because it took the focus off what I was doing (walking in circles like a hamster without a wheel. Whoopee) and put it on her. And it cut her destructive behavior down to nothing.
First I walked around my apartment complex. Then, when even my dog was bored with this, I had to start branching out. So I started taking her to local spots in Jacksonville that welcomed dogs. Some were good and some were ugly. Here are some of the best. And please remember that every one of the following requires your dog to be leashed.
Guana River Dam
This one is tricky. It's located off of A1A in Ponte Vedra Beach, not Jacksonville, and is on the way to St. Augustine. Therefore, it may be a little too far for dog owners in Jacksonville, but it's well worth the drive. Lots of hiking paths give you some diversity, and it's very secluded. So please go with a buddy, not just your dog.
Because it is such a drive, I haven't been there in a few years. I checked out their hours and there seems to be a fee now of 8 dollars for a vehicle and a dollar for pedestrians. The trails are open from 8 am to sunset. For more information, the phone number is 904-823-4500 and the website is www.gtemnerr.org.
Hanna Park
Hanna Park is located in Mayport, near the naval base. The park is very accessible to anyone living at the beach, Arlington or the intercoastal. And it is a wonderful place for dogs. There are tons of trails, as well as ways to get to the beach for a change of pace. People are always around, so there is a feeling of safety, while still maintaining the "just me and my dog" ambience.
Hanna Park is open every day, 8 am to 8 pm for the months of April through October, and 8am to 6 pm for the months of November through March. Fees are one dollar per person from 8am to 10am, after which it goes to 3 dollars a car for the rest of the day.
Castaway Island Preserve
My husband and I were driving to a great Colombian restaurant on Beach Blvd one day and we noticed a sign indicating Castaway Island Preserve. I'd driven by the sign probably a hundred times, thinking it was the name of a snooty housing development. Lo and behold, there was a tiny little park nestled right next to one of the busiest thoroughfares in Jacksonville. The next day we took the dogs.
Castaway Island is a cute little park with one trail, a dock you can launch a kayak from and an observation platform. We had a great time with the dogs and my husband amused himself by pointing out all the "alligator burrows" along the trail. He thinks he's funny.
For more information the phone number is 904-630-3577. The park is open from 8am to sunset, and there is no entrance fee.
P.A.L.
P.A.L. (or, the Police Athletic League, www.jaxpal.com) is the first park I ever took my dog to. I'm writing specifically about the park located on Monument Rd, though there are other locations. I recommend this park with reservations because it's been built up over the last few years, which is wonderful for kids, not so much for the dogs. However, it retains its looong hiking trail around the perimeter of the park. This is a trail for a young, active dog (not to mention a young, active person).
The park is open every day and there is no entrance fee. It is a very popular park and can get really busy on the weekend.
Timucuan Preserve
The Timucuan Preserve (www.nps.gov) encompasses several sites. The ones I've visited are Fort Caroline and Kingsley Plantation. Fort Caroline is better for dogs, in my opinion, but Kingsley Plantation is more interesting. Both are open from 9 am to 5 pm with no entrance fees.
Fort Caroline is located off of Monument Road. Kingsley Plantation is on Fort George Island. Directions can be found on their website.
My dog is now eleven years old and we've since obtained a lazy English Mastiff, so we don't utilize these parks as much as we'd like to. Hopefully this list will encourage you to get your hyperactive dog some exercise. Before she eats all your books.