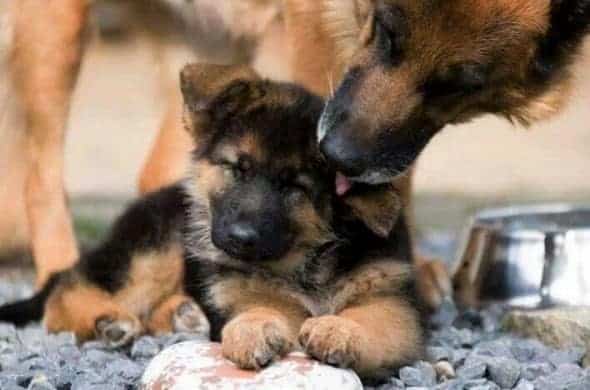 Highly recommended food diet for German Shepherd
When the question comes to food, we only try to get the best for ourselves whether it be homemade or factory-made, we prefer choosing the best one cause we know it is perfectly fit for us. But do you think that we are the same when the question comes about dogs? Do we know what to feed them and how to feed them?
We all love dogs as pets and are aware that dogs are the perfect pets when the question comes about choosing one. Most of you reading this article may own a pet dog or maybe thinking of owning one, but there are little measures that needed to be taken care of adequately. Let's take a look at some of the best pet strollers for Large Dog Stroller 
Also Recommended  – Small Dog Stroller
Furthermore discussing on the similar topic of dogs, the most popular and essential breed that comes in our mind after reading the word 'dogs' is 'German Shepherd'. It is a dog breed that mainly originates in Germany and also known as 'Alsatian' in Britain till 1977 where its name was changed back to German Shepherd. 
This dog breed was chiefly used for herding sheep and was a farm dog. However their strength, trainability, obedience, and intelligence made them famous across the globe. They have been great for all sorts of work including disability assistance, police, military, work, rescue, and even acting.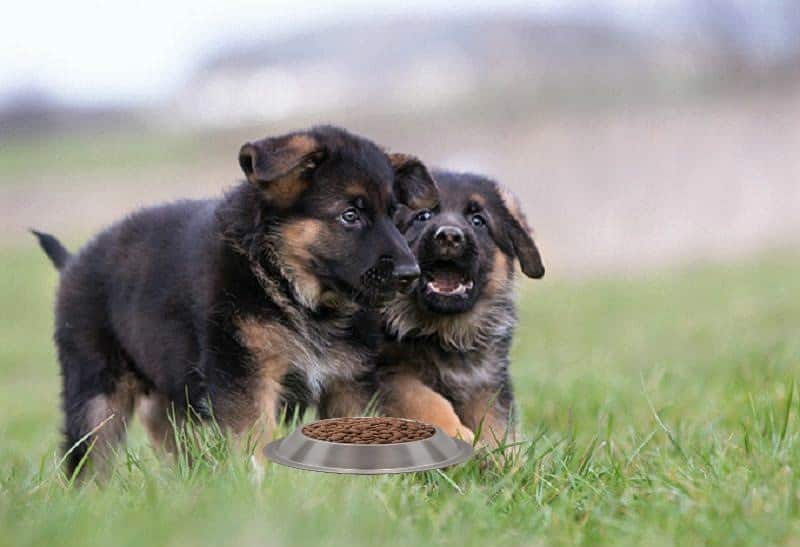 We all wish to have one but are you aware of the fact that this dog is a dominant dog with a large appetite of food and you must be quite knowledgeable on how to fill his desire with the adequate selection of meals.
It is the most fun-loving and a great companion to be with which makes us more in love with this lovely creature. But owning this dog as a pet isn't the easiest thing to do as it has a very fragile digestive system and offering proper food is just as it can interrupt its daily routine of playing and well being. You can't just feed it anything you like to; you need to remain updated with the things that you must avoid and the substances you must offer.
The food we provide to our dog must comprise enough nutrition and energy and not the one which deteriorates your German Shepherd dog health. You must give German Shepard puppy the food that is rich in protein and good fats. 
The heat coming from proteins is the actual reason that makes them healthy and active throughout the day. You must be aware of what is right and wrong with your dog. The German Shepherd food can contain healthy human food like meat, bread, and certain fruits and veggies as well because they comprise of natural enzymes that are essential for the dog but the dog food provided from the market does not fulfill these requirements.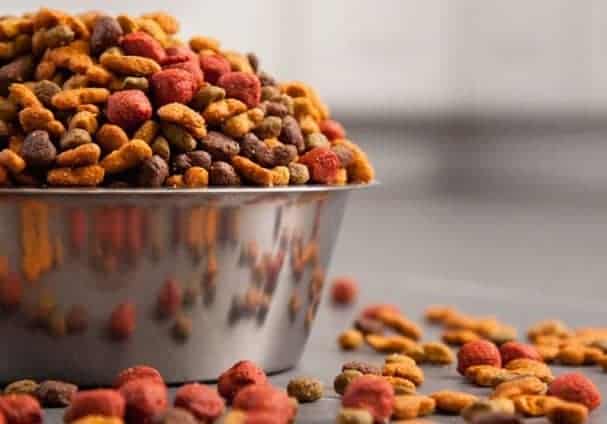 You must feed them several times a day, but don't go and fill a bowl keeping a treat ready for pests as well and mess up with German Shepherd food habits. But feeding your puppies at a fixed interval of time is a vital necessity as otherwise, they will develop the habit of munching then and now without following a strict and proper schedule. 
German Shepherd food diet also must include water as it plays an important role. Similar to us dog's body is also made of 70% of water and is necessary for biological functions and providing your dog tap water may also upset its digestive system. You can also switch to a German shepherd food chart for a more precise food diet.
Also, Check: Comfortable Dog Strollers For German Shepherd Dog
Best German Shepherd food type
The type of German Shepherd food must consist of various nutritional components comprised of proteins that help in maintaining the health of the coat and activeness of the dog as well. Then comes fat followed by carbohydrates and vitamins and including all these essential products make the best German Shepherd food.
Protein being the chief nutrient is mostly available in dog foods, and they majorly include meat such as beef, chicken, fish, etc. Many also consume meat meals which is a highly concentrated form of animal protein and form an essential element of German Shepherd food. Carbohydrates being the next to provide glucose and digests in the pup's small intestine. Majorly two primary forms are available for puppies and dogs that are 'canned food' and 'dry food'.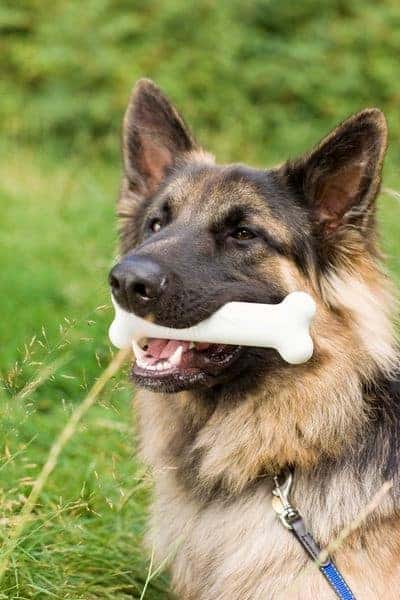 The significant difference between canned and dry food is moisture content. The dry food, also known as kibble food contains 10% of moisture content whereas the canned or wet food contains 78% of moisture content. Another difference that we consider is the ingredients. The dry food's central part is meat chunks whereas the in case of canned food it is meat and animal derivatives. The next difference comes the cost, the kibble or dry food is more budget-friendly in comparison to the wet food. 
The convenience of the dry food proves to be more as compared to the wet food due to the reason for the moisture content present. Kibble is likely to get along a longer time in comparison to the wet food which due to high moisture content can spoil after a precise time.
But when we move to the topic of taste where canned food outshines due to the aroma of meat, gravy, and chunks of chicken which put down even high-quality kibble dog food. Kibble food promotes chewing and prevents dental diseases like plague and stuff and also stimulates the gums for better chewing. In the case of wet food, the dog merely requires to chew, and pieces of meat can also stick in between the gaps of teeth providing extra room for plaque and tartar.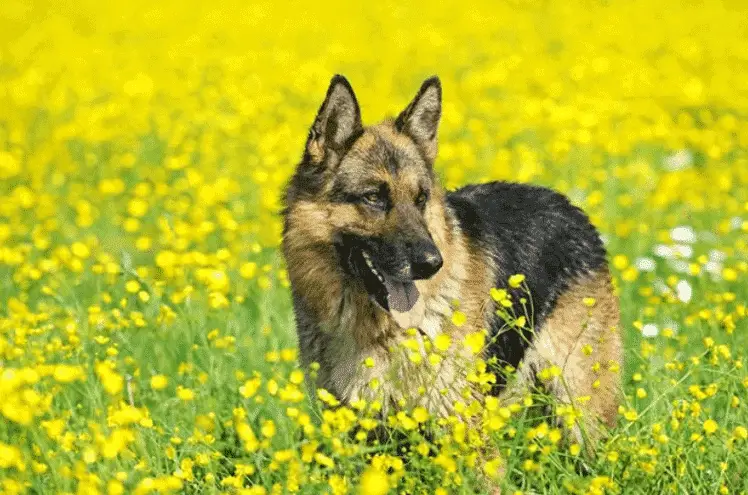 Many veterinarians suggest wet food at a small age of the pup and as he grows you can start introducing dry food decreasing the amount of wet food. Though dry food has more advantages in comparison to dry food by being convenient and affordable at the same time, however, they also contain negligible water content.
To avoid liver and kidney problems, we must also ensure plenty of clean and freshwater for the German Shepherd dog. Though offering canned food can be expensive and also we need to feed it more to meet German Shepherd pup's daily needs.
Do Check: Things You Must Know About German Shepherd Dog
German Shepherd homemade food
Providing German Shepherd dog homemade food may result in a better digestive system and prevent many diseases indeed. Feeding German Shepherd pup or homemade dog food may even increase the odds of staying healthy. But the most important trick is to balance all the ingredients, also if we feed fresh and high-quality product, an unbalanced diet can ruin the dog's health by giving it specific allergies.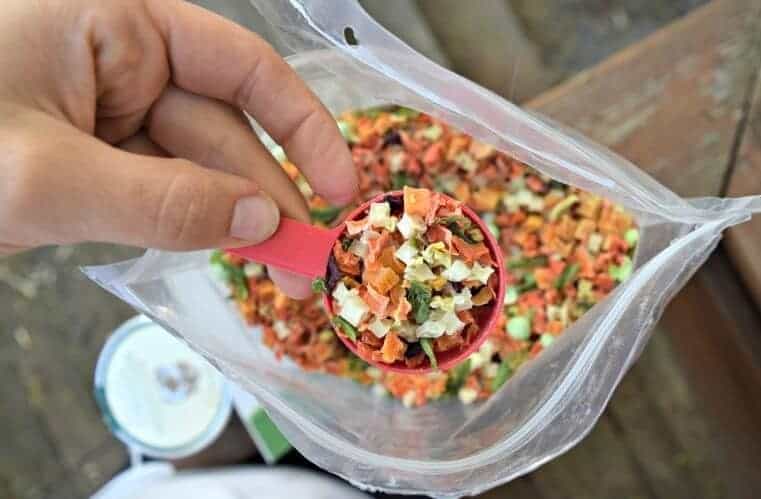 You must consult a veterinarian before for a proper diet chart for a German Shepherd dog and even for a puppy food chart.
For proteins – meat, poultry, fish, plain yogurt, cottage cheese or eggs
Vegetables and fruits – fresh fruits, green leafy vegetables, carrots, cooked sweet potatoes.
But there are certain foods that you must take care of and avoid feeding your dog like tomatoes, avocado, garlic, onion, grapes, raisins, chocolates as this food can result in toxic results for your dog and even be dangerous to eat.
German Shepherd food amount and schedule
These dogs are required Best German Shepherd food but in a limited quantity but not in such a low amount that its ribs are not visible and not in such a large amount that it leaves its bowl half-filled.
The food provided must be of high nutritional value with meat like chicken or beef as the first ingredient on the dog food packet.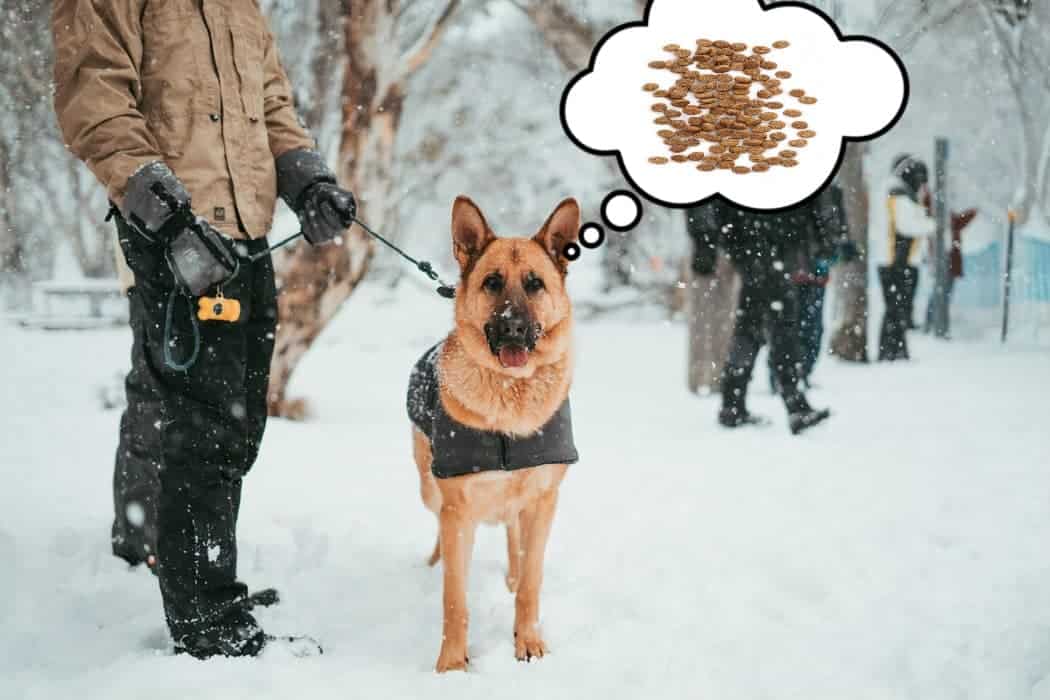 It must also contain 30% of protein and 16% of fat along with a wide spectrum range of other essential nutrients such as omega fatty acids, minerals, vitamins. German Shepherd puppies should be fed 1-2 cups of dog food a day whereas the German Shepherd dog must be fed 3-5 cups of dog food a day
German Shepherd puppies need to be to gain 1-2 pounds a day. An adult dog requires approximately 1300 to 1600 calories per day of good quality food for aged dogs whereas 1700 to 2400 calories per day for quite active dogs.
Food schedule for German Shepherd puppy (newborn)
From the beginning, for at least 6 to 7 weeks the pup must feed on mother's milk for passive immunity. Avoid giving cow or goat milk as they are of poor quality in comparison to that of the dog's milk.
Food schedule for the 1-month-old pup
You should let German Shepherd puppy taste new flavors and not entirely dependent on the mother's milk after 3-4 weeks. At this tender age offer the pup porridge or exceptional wet food available. At nearly 6-8 weeks start giving it a sparsely moistened dry food or you can even prefer chicken stocks. From 8 weeks onwards start offering the solid pup food and also a specialized puppy feed. At this stage, the milk consumption must halt from the pup's diet.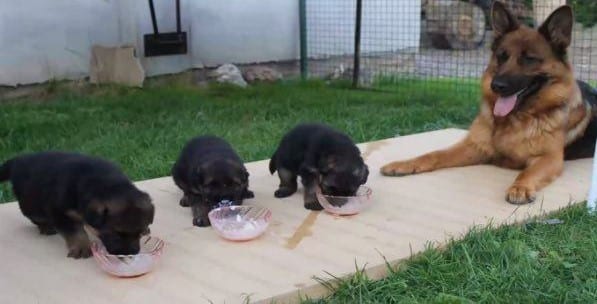 Food schedule for the 2-month-old pup
Star is serving dehydrated food at this stage of the dog and by feeding him 4 to 5 times per day. But an important point to keep a note of is to feed him at particular times.
Food schedule for the 4-month-old pup
Increase the food quantity of dogs and serve it according to the pack of the dog food details. You can even start mixing foods such as fish, meat, or veggies along with dry food. But you shall also avoid rabbit or fish bones cause they can be proved fatal and harm the dog's teeth.
Food schedule for the 6-month-old pup
The daily food serving should reduce to twice a day with a simultaneous increase in the quantity. Approach a vet for a planned and proper diet.
German Shepherd food brands
Today there is a wide range of products present in the market but choosing the best and right which helps in building good strength of the dog and quite helpful for muscles and the digestive tract.
Some of the best dog foods are listed below:
Holistic Select Large and Giant Breed Puppy Health Dog food
Precise Holistic Complete Large Breed Adult Formula
Royal Canin Giant Junior Dry Dog Food
Blue Buffalo Wilderness High Protein
Hill's Science Diet Puppy
People Also Ask
What food does German Shepherd eat?
Easily digestible sources of grains and carbs like rice, barley, and oats. Also, food containing vegetable and fish oils as well.
What foods are bad for German Shepherd?
Human leftovers are not always fit for dogs. Even foods including onion, garlic, and chives are proved to be fatal. Macadamia nuts, chocolates, raisins, tomatoes, yeast dough, are not fit for consumption.
How much food should German Shepherd eat a day?
Its essential calorie consumption requires approximately 2,250 kcal per day whereas older dogs need as much as 1,400 kcal per day to prevent them from gaining weight.
What is the best dry dog food?
The best dry dog food is
1. Natural grain dry food by wellness core
2. Taste of the Wild High Protein Real Meat Recipe Dry Dog Food
3. Adult 7+ Active Longevity Chicken Meal
If you're interested in more information you can read our full guide to the best dry dog foods currently available.
FINAL VERDICT
I want to sum up in the end with the fact that German Shepherd dogs are the most lovable and active amongst the entire dog breed. A highly recommended food diet for German Shepherd dogs is a must as they help to keep the dog fit and active. The selection of the best food and giving the food according to a particular diet with a fixed amount of feed is an essential step to follow.
Even keeping the dog hydrated is very important and also hygiene water and food bowl is a must to keep the dog disease-free and fit in the long term. There are various food brands to choose from, but you must always select those brands whose first ingredient happens to be meat like chicken or beef. German Shepherd dogs are a darling to have, and they are worth taking care of and providing them with the best. To give your dog that extra care you can also check out the collection of dog strollers.