In the hectic lifestyle and schedule, our lives are in flux demanding so much from us. The changing work scenario not only makes you frenzied but also affects your four-pawed companion. The sudden lack of a familiar company or source of comfort can bring stress to the dogs.
There can be many reasons for anxiety in dogs, but the most common one is the separation from the owner. A variety of toys are available, some help with teething, some provide mental stimulation, and others enable to deal with anxiety issues.
Start by gifting your doggo the best outdoor toys for dogs that can reduce the pangs of separation anxiety making him/her feel relaxed and comfortable. When handling stress it is ideal to switch among different toys to avoid making the play session boring.
We have selected some of our best picks for your dogs to deal with separation anxiety.
Kong Classic Dog Toy
If you have doubts about starting with the best dog toys, opt for the Kongs. This classic entertainer is durable for hours of licks and chews. The natural rubber made from puncture-resistant material is ideal for an average chewer.
You can make it challenging or rewarding by stuffing it with treats or even freezing it with some peanut butter. In solo playtime, your furry friends can engage in repetitive chewing action to release excess energy and frustrations. Creative dog owners can address the boredom of a great game of fetch with the addition of stuff.
Moreover, it is available in six different sizes that are recommended for various weight ranges. The color variation makes it further enticing to your canine friend.
Smart Pet Love Snuggle Puppy
Your fido can fall in love with an inanimate companion in your absence. You need to be a bit innovative while selecting toys for your loved pet. The Snuggle Puppy from Smart Pet Love is the perfect stuffed toy to gift your dog.
The cute and fluffy toy can help fulfill the void as it is designed with a mechanical heartbeat and disposable warmer. Producing warmth up to 144° F your dog can feel like sleep next to a furry animal. The battery-operated toy can last for almost a week providing warmth for 24 hours.
The realistic pulse rhythms soothe the nerves and lulls even the most vulnerable souls to sleep. With the Snuggle Puppy, your friend can sleep at ease for hours.
Hyper Pet Licki Mat
Your four-pawed companion can be kept busy in a refreshing way by serving treats in the textured mat. This will keep them busy and challenged in their activity without having to notice your absence. Your fido will be happily engaged with a variety of treats like yogurts, peanut butter, pumpkin puree, and other pet-approved foods.
The quality time invested in repetitive licking of the grove mats aims to reduce the anxiety and stress level. The texture feeder of this slow feeder also promotes oral health with improved gums, clean teeth, and fresh breadths. Moreover, the stress buster mat is the best outdoor toy for dogs that reduces bloating and enhances digestion.
These are designed with non-toxic materials and available in an assortment of colors and sizes.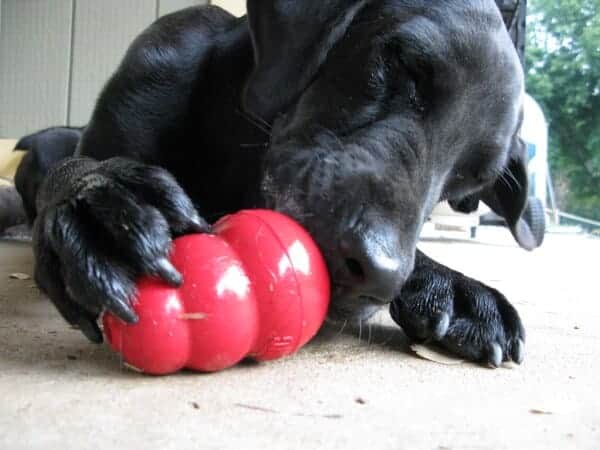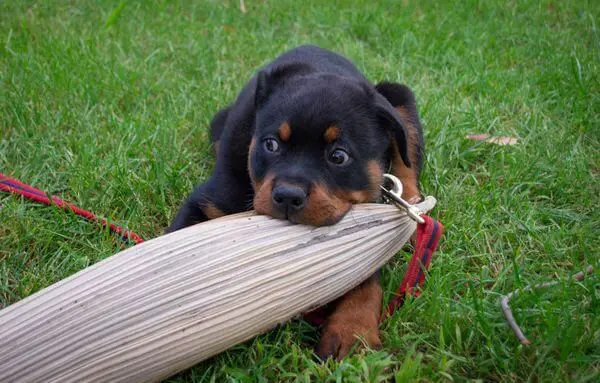 Awoof Dog Snuffle Mat
Looking for new ways to build confidence in your loyal companion is a challenging pursuit. If you suspect that boredom is taking a toll on mental health an a snuff pad is a great idea. This unique activity mat makes sniffing an enjoyable task for your pooch.
Within the strips of grassy green fabric, you can hide stuff like treats and kibbles. This dual-use design can be laid out flat or shaped into a bowl to promote deeper digging. You can help alter the destructive habit of your dog by occupying them in an energy-driven program that boosts their smelling power.
The non-slip bottom effectively clenches the ground and prevents accidental injuries by the slipping or sliding of the mat. For the next round of foraging, you can clean the mat with a quick machine wash.
Wickedbone Smart Bone
For your large and medium-breed canine, pick a different type of anxiety buster toy. This is the best outdoor toy for dogs enabled with Bluetooth. This hands-free chew toy can be operated via two different modes- autoplay and drive.
This bone-shaped dog device can be operated from the smartphones which your fido can play both indoors and outdoors. The techy toy's interactive and intelligent session offers different engaging sessions according to the touch of your dog. It is maneuvered to capture attention and even roams around at different speeds.
This battery-operated toy comes with detachable tires that can be cleaned conveniently after playtime.
Nina Ottosson Tornado Puzzle
Engage your companion in learning activity via a fun route. This interactive dog toy puzzle has multiple layers of rotating discs to explore. It can stimulate the brain of your dog with rewards concealed in the slots.
The fido can learn to spin these puzzle toys in different directions with a variety of layers. Place the bone-shaped accessories in some of the slots, so that your dog can dig out those hidden treats. It will be rewarding to watch your friend digging out those hidden treats from the spinning layers.
The level of difficulty makes the game more challenging by keeping them engaged.
Snug Rubber Dog Balls
We all know that our furry friends love to play with balls. But what if you choose the wrong size that your dog might swallow and get choked?
So, have the snug rubber ball which is one of the best outdoor toys for dogs to play in the park, backyard, and poolside. The heavy-duty rubber makes it nearly indestructible to most aggressive chewers. Also, made from 100% BPA-free makes it completely safe for pets.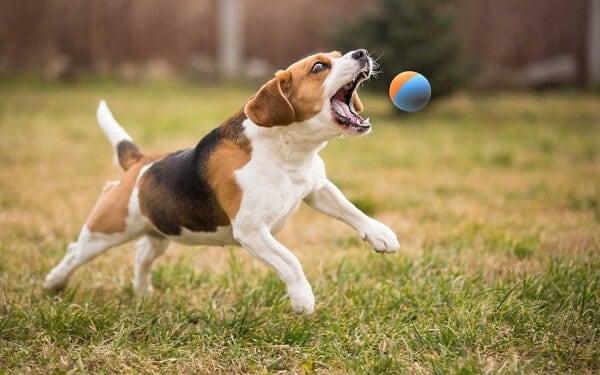 Final Thoughts
The best outdoor toys for dogs are available in different categories that include chewing toys, tech toys, snuffle mats and others. Make sure to supervise your pooch whenever introducing any new toy for safety concerns.
Surely, these toys will help smash the boredom in your dog in your absence.