Mastiffs are big dogs and if you want to bring one home then you will need to find a bed that suits it just fine. Normal-sized dog beds just aren't big enough for mastiffs, which is why you need to look for an extra-large bed for your mastiff companion. If you are wondering what extra large dog bed to buy for your mastiff, you have come to the right place, we have pulled together the tops ones currently available.
Before we start off with the review, let's talk about why you should consider buying a dog bed for your mastiff. You might think that a dog bed is something that your mastiff can do without. They can survive on a the floor, or perhaps, with a small rug/blanket on the floor. While they can survive like that is that how you'd like to sleep? This is going to be your best friend for many years. Don't you want them to have something more comfortable to sleep on?
There is also the fact is that as mastiffs get older, sitting and sleeping on hard surfaces can hurt their bones. Mastiffs are one of the breeds that are likely to develop doggy arthritis as they get older and sleeping on hard surfaces is a strict no-no.
However, with a soft and comfortable bed to sleep on, you can expect your mastiff to rest well. In many cases, soft dog beds also ensure faster recovery from bone problems and muscle aches. So if you have a mastiff or another large dog breed, it's about time that you considered purchasing a dog bed for your pet.
Here are our top picks:
1. PetFusion Ultimate Pet Bed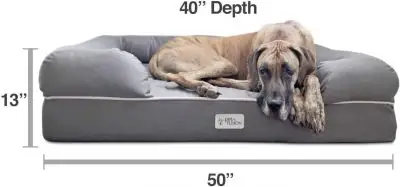 ---
Support: 4″ memory foam base for great comfort and support
Cover: Water-resistant and tear-resistant removable cover
Material: 'Skin contact safe' fabric to avoid skin irritation and other skin problems
Colors: Available in a wide range of colors
The Ultimate Pet Bed from PetFusion is a large bed for pets that is ideally meant for large dog breeds like mastiffs. Many mastiff owners have been pleased with this bed, with many going on to recommend this bed to other mastiff owners for the sheer comfort it offers. While there are doubts as to how long the 'tear-resistant' cover lasts, there can be none regarding the overall quality of this dog bed.
PetFusion's Ultimate Pet Bed may feel like an expensive dog bed but its advantages make it one of the best dog beds out there that money can buy. If you want your mastiff to sleep soundly and rest well, this is definitely one of the beds that you should consider buying.
2. Big Barker 7" Pillow Top Orthopedic Dog Bed
---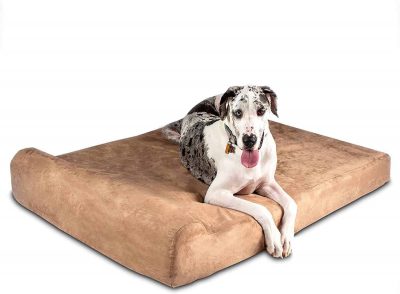 Thickness: 7″ thickness
Foam: Three layers of comfort foam
Colors: Available in four colors: burgundy, chocolate, gray, and khaki
Pillow: Elevated contoured foam that can be used as a pillow
Firmness: Design with a firmness and shape that will last for many years
This giant dog bed is recommended not just for mastiffs, but for any large dog breed. The bed is available in a variety of colors and it is one of the most comfortable beds around for large dog breeds. The firmness of the bed is one of its major highlights and it ensures that your dog has high levels of comfort and support.
This Big Barker product is one of the most reliable dog beds around. So if you are looking for a dog bed that's worth your money, you should definitely consider this.
3. Serta Ortho Quilted Pillowtop Pet Bed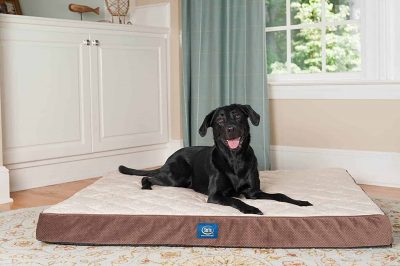 ---
Design: Suits a wide variety of sleeping styles
Material: Quilted top and supportive foam for comfort
While the aforementioned dog beds have been reviewed highly by users, this is the dog bed that you would want for your mastiff if a flatbed is your primary consideration. Its flatness is something that is sure to be appreciated by dogs that are a bit old and have joint issues. It is easy to set up and you can place it anywhere in your house.
This dog bed is a great product to consider. However, the manufacturers should have done better with the bottom, as it is prone to moving.
4. Laifug Orthopedic Memory Foam Large Dog Bed
---
Foam: Comfort, stability, and support provided by the top-notch memory foam
Liner: Waterproof liner
Made from top-quality memory foam, this bed is something that is loved by not just mastiffs but many other dog breeds as well. If you are looking for a bed that guarantees sound sleep and comfort for your mastiff, be sure to consider buying this.
The only major complaint regarding this dog bed is its durability. Most users have complained about this bed's lifespan and the manufacturers would do well to ensure that it lasts longer as it has quite a high price tag.
5. Brindle Soft Memory Foam Dog Bed with Removable Washable Cover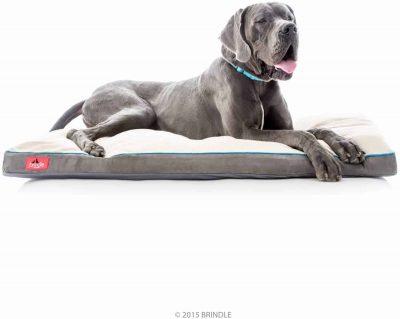 ---
Foam: 3″ shredded memory foam layer
Cover: Washable and removable microsuede cover
This dog bed from Brindle is ideal for not just mastiffs, but for German shepherds and Great Danes as well. The bed offers a great degree of comfort for dogs suffering from joint issues and it is one of the longest-lasting products to feature on this list.
With very few negatives, this dog bed from Brindle is undoubtedly one of the best dog beds for mastiffs to feature on this list.
6. The Dog's Bed Orthopedic Large Dog Bed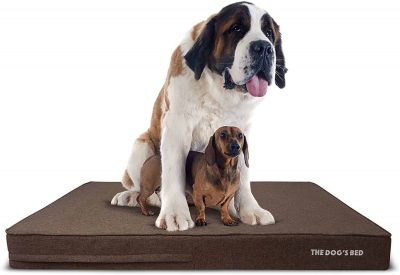 ---
Fabric: Dirt-resistant, mold-resistant, and drool-resistant
Cover: Removable and washable cover
This orthopedic bed from The Dog's Bed is recommended for large dog breeds. Its washable cover and waterproof inner liner are two of its highlights and it is a bed that is naturally meant to steer clear of dirt and mold accumulation.
Even though this dog bed suffers from a cover that could have been more durable, overall, it is a product that the manufacturers can be proud of. If you want a great bed for your mastiff, this should be one of the first dog beds that you should consider buying.
7. Furhaven Pet Dog Bed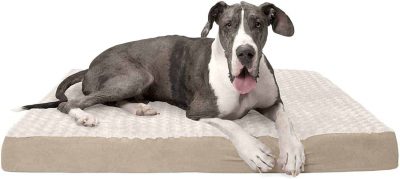 ---
Design: Three-bolster design
Colors: Available in a wide range of colors
This jumbo-sized dog bed is perfect for mastiffs that sleep in a variety of positions. It provides great support, which is something that makes this dog bed ideal for mastiffs suffering from age-related bone and muscle conditions.
Had this bed been a bit more durable, it would have certainly been the ultimate dog bed for mastiffs. However, it is still a great product and if you want your mastiff to sleep soundly, there's no reason why you should not consider purchasing this bed.
Conclusion
Mastiffs are large and heavy dogs and if you own one, you need to look out for its comfort. Buying a bed can go a long way in helping your mastiff to sleep soundly and recover from joint and muscle aches and pain. We hope that this review helps you to buy the best bed for your mastiff so that it gets the comfort and support that it deserves.
Do you have a extra large dog bed for your mastiff that we haven't included in our list then let us know and we'll give it a review and maybe it'll appear on our list.