Getting your dog on a walk might be difficult for many reasons. Maybe they are old, and they are no longer able to handle the long walks they used to enjoy. Or perhaps they have just had surgery, and the vet advised complete rest. Whatever the problem might be, your dog is likely to still long to be outside, getting fresh air and a change of scenery; a stroller may be able to help you with this without straining its legs.
If you plan on getting a dog stroller for off-road trips but don't know which one will be best, then don't worry. Researching the wide variety of products online and keeping track of the different features can be challenging. However, we have done all of the work for you, so you don't have to.
We have examined top-rated products online, and here are the five best dog strollers that we recommend.
Our top picks for the best off-road dog strollers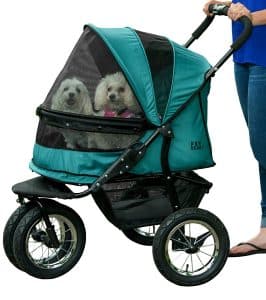 ---
Weight limit: 90 lbs
Opening: One-click button lock
Wheels: 4x 12″ air ride tires
Brake: Quick rear foot brake
What's better than having one dog? – having two dogs. But the more pets you have, the harder it is to go on off-road tracks with them.
Pet Gear uses only high-quality material to manufacture this double dog stroller. And due to its durable frame, this pet stroller can carry around 90 lbs. of weight. Which means you can either take multiple small puppies or one larger dog.
On top of that, this vehicle has four big size air tires. These tires are shockproof and prevent vibrations. The Pet Gear air ride tires offer extra comfort to your pet and make the ride enjoyable. The Pet Gear No-Zip Double Pet Stroller has two wheels centered at the front, which helps to cushion any bumps it may hit.
To make the ride even better for your fur babies, this stroller features an elevated paw rest at the front. So, your dogs can enjoy the view without getting tired. The stroller also comes with a bolster pad for extra comfort.
Just like many companies, Pet Gear offers a rain cover to protect the pets from harsh weather. While the primary material used is water-resistant, the mesh that allows your dogs to look out of isn't.
The Pet Gear stroller doesn't feature any tethers, but it has a one-button lock. This no-zip entry isn't only easy to access, but it also makes the stroller more secure by reducing the chances of your pets escaping.
The Pet Gear No-Zip Double Dog Stroller is one of our top picks for the best double dog strollers.
---
Weight limit: 110 lbs
Handle: Height adjustable handle
Wheels: Quick-release air-filled tires
Frame: Aircraft-grade aluminum frame
Do you own a dog that seems to not fit in any of the strollers you have bought so far? Well, Ibiyaya might be able to solve your problem with this large pet stroller. This stroller can carry up to 110 lbs. of weight, making it perfect for large-sized dogs.
The best thing about this stroller is its quality steel and aircraft-grade aluminum construction. This Ibiyaya manufacturing makes the stroller durable. Even after carrying 100+ lbs, the stroller will stay the same for a long time to come.
All 3 of the tires are air-filled, shock-absorbing, and offer a smooth ride. The swivel wheel feature makes maneuvering easy. Furthermore, the front wheel is removable, so you can easily store the stroller in your car.
This Ibiyaya stroller has wheels reflectors for a secure night, right. Even in the dark, your pets would be safe from any accidents.
One of the problems that large-sized pet owners can relate to is that putting a larger dog in a stroller is tedious. Many dog strollers come with smaller openings, which makes them unsuitable for a large dog. But Ibiyaya solved this problem with this stroller that offers three different entries: One at the front of the dog strollers, on the back, and one on top, which can also be left open to provide your dog with a better view of you as you walk.
Unfortunately, the Ibiyaya stroller isn't water-proof, but it does come with a large rain cover, which will deal with any rain you encounter on your walks.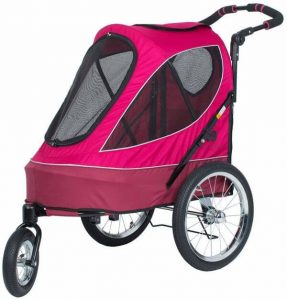 ---
Weight limit: 60 lbs
Handles: Multiple position, adjustable handle with EVA foam grip
Wheels: Air-filled shock-absorbing wheels
Material: PVC mesh
When buying any item, let alone a dog stroller, it is advisable to choose one that can be used in many situations rather than just one. This avoids the need to have a collection of dog strollers, which we know your dog will decide they have a favorite and only want to use that one despite not being for what we're doing. The Petique All Terrain Joggers is the most multipurpose option on our list.
One of the main reasons why this stroller is considered versatile is its tires. As the name suggests, you can use this stroller on any surface. Either it is a bumpy off-road or asphalt, sand, or tile floor, Petique doesn't disappoint.
Furthermore, this jogger pet stroller has a large mesh window that offers a good view. And this mesh window also improves the airflow.
These air-filled tires make the ride comfortable for your pet. But Petique is trying to give you an equally fantastic experience as well with the ergonomic handle.
This handle has EVA foam for a better grip. In addition to that, the handle is adjustable and suits people of almost every height.
The Petique stroller is also best for those people who find cleaning the stroller difficult. As this stroller's fabric is removable, you can pop it out and throw it in the washing machine.
Not only is the fabric removable, but so are all 3 of the tires. This fabric makes the stroller easy to fit in any car.
4. IBIYAYA 2-in-1 Heavy Duty Pet Stroller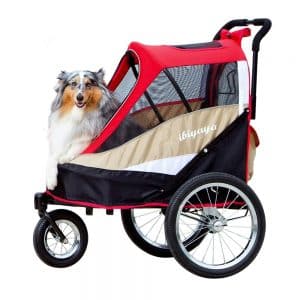 ---
Weight limit:

66 lbs

Wheel:

Steel wire wheel

Tires:

Shock-absorbing air-filled tires

Wheel swivel:

Front lockable swivel wheel
This heavy-duty dog stroller from Ibiyaya is perfect for bikers who own large dogs. Why?
Well, you can connect this stroller to your bike within 2 minutes. And enjoy biking with your dog. In addition to that, the Ibiyaya 2-in-1 stroller is spacious from inside and can carry 66 lbs. of weight.
Other than being big, this stroller is comfortable for pets as well. The inside of this heavy-duty stroller is soft and contains removable padding.
This product has a high-quality metal frame, which increases durability—helping the stroller keep going after many long off-road hikes.
All of the wheels are made with steel and have steel wires. Furthermore, the tires are air-filled, which help to absorb vibrations, and offer a smooth ride.
The stroller fabric isn't water-resistant. However, Ibiyaya offers a rain cover free of cost with this stroller. To ensure the safety of your dog, this rain cover is made of a non-toxic material.
You will also get extra storage pockets to store dog treats or your personal belongings. On top of that, this stroller has a cup holder.
Nighttime on- and off-road walks can be dangerous, which is why Ibiyaya stroller wheels have reflectors that make you visible on the road. And hence, save the stroller from unfortunate accidents.
This stroller also has three pre-installed safety tethers. You can tie your dog's collar using these tethers to maximize the safety of your pet.
5. PET GEAR No-Zip NV Pet Stroller
---
Weight limit:

70 lbs

Lock:

Push-button easy lock

Wheels:

12″ air ride shock-absorbing tires

Cover:

Water-resistant material
Are you looking for a more budget-friendly dog stroller for your pet? Well, Pet Gear is offering a good quality economical dog stroller.
This stroller has a high weight limit, which means it can fit a large dog or a few small puppies. Furthermore, the one-click easy to lock button offers easy access to your pet.
The Pet Gear NV stroller is made with lightweight material, making it easier to push on a rough road. Furthermore, the ergonomic handle with soft foam betters your experience.
Not only is this stroller lightweight, but also easy to travel. Because you only need one hand to fold and store this stroller in the back of your car.
NV pet stroller offers high-quality rubber tires that are suitable for on and off-road alike. As these tires are shock-absorbing, your pet would feel at home even when on a bumpy road.
To make the ride even more comfortable for your fur baby, Pet Gear features an elevated paw rest and a large mesh window on the front of the stroller.
This stroller comes with a weather cover to save your dog from the harsh weather. But in addition to that, the stroller fabric itself can bear rain too.
Last but not least, the NV no-zip stroller has a large storage pocket. So, you can access the dog treats, leash, and toys without any hassle.
Buying Guide: Off-Road Dog Stroller
There are hundreds, if not thousands of dog strollers available online. This sheer abundance of products can make it challenging to choose the right stroller for your pet.
This is why we have created this quick guide to assist you. To get the best deal, consider these following six features before buying a pet stroller.
1.      Size of the Stroller
The stroller should have enough space so that your dog doesn't feel trapped. But what is the right size of the stroller?
It is simple, measure your dog from head to paw and side-ways when it's sitting. Then get a stroller that is at least 4 inches bigger than your dog's size.
2.      Weight Limit
Most of the sellers mention the weight limit of the stroller in the product listing. It is recommended to get a stroller with a weight limit higher than your pet's actual weight, especially when your dog is in the growing stages.
3.      Water Resistant Material
Pet strollers usually come with a rain cover to save your pet from getting wet. However, a stroller with water-resistant material is always better than the one with a separate weather cover. So, always try to look for a stroller with polyester, vinyl, or nylon covers.
4.      Ergonomic Handle
Yes, you are getting the stroller for your pet, but you are the one who will push it—this is why it is crucial to get a stroller with handles that make your experience better.
The stroller handles with round edges and foam makes pushing the stroller easier.
5.      Shock Absorbing Tires
A non-stop shaking stroller can worsen the mood of your pet. When walking on rough terrain, preventing the stroller from vibrating seem impossible, but it isn't.
Many strollers come with shock-absorbing tires. This small detail makes a big difference and makes the ride better for your dog.
6.      Extra Storage Pockets
Extra storage pockets seem unnecessary to some people, but it can be a blessing. You can't only store your keys and mobile phone in it. But also the essential like dog treats and water bottle.
Conclusion
An off-road dog stroller offer dogs a fun yet comfortable ride. But, if you still can't decide which product to get, then let us help you.
PET GEAR No-Zip NV Pet Stroller: This stroller is the most affordable stroller for a medium to large dog.
IBIYAYA Large Pet Stroller: With a weight capacity of 110 lbs., this pet stroller is the best for large dogs.
IBIYAYA 2-in-1 Heavy Duty Pet Stroller: As this stroller is easy to connect with a bike, this product would work well for bikers.
These were our five recommendations for the best off-road dog strollers. We hope you find the perfect stroller for your pet.