A Pet stroller can be essential when you love to hike with your dog. It can help you keep your dog closer to you.
Also, if your dog is too old, too young, or has just gone through a surgery, then hiking might be challenging for it. But with a stroller, your baby can enjoy the view while being in the stroller.
No matter if your dog is 4 months or 4 years old, there is a stroller for every pet. You can easily find a stroller for small, medium, or large-sized fur babies.
With that said, the actual research step is quite complicated. Fortunately, we have already done it for you. And after checking tens of different products, we have created this list of 5 best dog strollers for hiking.
So, let's get started.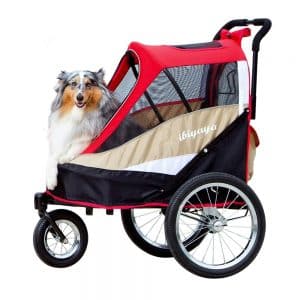 1. IBIYAYA 2-in-1 Heavy Duty Dog Stroller
---
Weight limit: 66 lbs
Wheels: Quick-release front swivel wheel
Padding: Removable scratch-resistant padding
Frame: Steel frame with air-filled tires
This heavy-duty stroller from Ibiyaya is best for medium size dogs. The front of this cart is spacious, so your dog doesn't feel trapped. This model features large windows. Your fur baby will not only have a good view, but these windows also regulate the airflow and prevent overheating, the last thing you'd want is for your dog to suffer from heatstroke.
Ibiyaya stroller has a heavy-duty metal frame that can carry up to 66 lbs. of weight. This rigid and durable body will last you and your dog for years of hiking trips.
But don't worry if the last time you went to a gym was never. And pushing heavy objects is not your forte. Due to the unique tires, pushing this stroller is a piece of cake.
To prevent your arms from straining, Ibiyaya has come up with a fool-proof plan. All three of the tires are air-filled. This offers a smooth ride and makes the cart easy to push.
Furthermore, it doesn't matter if the trail is filled with rock. With these shock-absorbent tires, your dog will have a comfortable ride.
How about if you're also someone who likes to go out on bike rides? Well, this dog stroller comes with a detachable arm that can be used to turn this dog stroller into a trailer, allowing you to bring your dog along when you go out for a bike ride.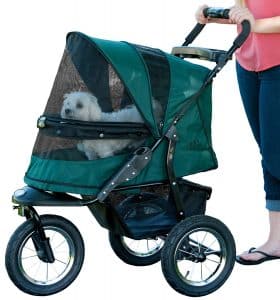 2. PET GEAR No-Zip Jogger Pet Stroller
---
Weight limit: 70 lbs
Closure: Zipless entry push-button entry
Handle: Ergonomic, foam-covered, handle
Wheels: 360-degree front swivel wheel
This Jogger pet stroller from Pet Gear is best for new pet owners who are looking for a simple stroller. As this stroller is easy to use and assemble, anyone can start using it right away.
The entry is secure and easy to access. Pet Gear uses their No-ZIP approach to securing the dog stroller. The approach means you don't have to fiddle with zips or Velcro when you're also trying to keep hold of a dog who's excited about getting to go out.
As the name suggests, just push the button, place your puppy inside and click it to close. Yes, it's that simple. This hassle-free opening/closing saves a lot of time.
The inside of this Pet Gear stroller has good airflow and is comfortable. It also has a soft paw rest for your puppy.
But not only will your pet love this stroller but so will you. Why? Because it's as comfortable to push as it is to ride.
This Jogger pet stroller features an ergonomic handle. The soft foam and curved edges of the handle feel good in the hand. Honestly, you can push this stroller for hours without feeling any pain in the wrist.
To make this stroller even more maneuverable, the front swivel tire can be locked in place meaning it won't spin around on awkward spots when you're out hiking.
Last but not least, the large bottom basket can fit in your dog treats, toys, and even your phone. This model also has a side cup holder.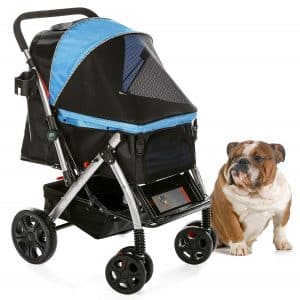 3. HPZ Pet Rover Premium
---
Weight Limit: 75 lbs
Frame: Rigid steel frame
Wheels: 360-degree rotating front swivel wheels with pump-free rubber tires
A person that loves to hike but doesn't like having to lift heavy things? Does this sound like you? If yes, then HPZ pet rover is the perfect item for you.
This pet stroller is made with rigid stainless steel for durability and can carry up to 75 lbs. of weight. Yet the item itself weighs only 22 lbs. which makes it easy to load/unload in the car.
Unlike most of the other strollers in the list, this one has a three-level canopy roof. This stroller features as mesh roof layers as well. So, no matter how you position the canopy roof, the pet is always safe from insect attacks.
This canopy has a zipless door and uses Velcro for closure for an accessible entrance.
HPZ offers pump-free rubber tires for this particular model. There are mainly three benefits of having thick rubber tires. First of all, these tires never puncture or get flat.
Secondly, after several tests, it has been shown that rubber tires absorb vibration 90% better than conventional tires. Which means your pet will have a smooth journey even on a bumpy trail.
And lastly, these rubber tires are all-terrains. In simple words, whether off-road, pushing a stroller on a beach, or on steps, the tires will stay intact.
Furthermore, this stroller has a 360 degrees swivel front-wheel mechanism. This rotating feature increases maneuverability and control.
The handle of HPZ stroller is reversible. This simply means that you can push the stroller from the front or back, allowing you and your dog to see each other easily.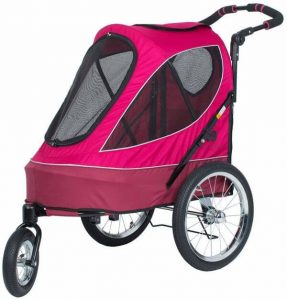 4. PETIQUE All Terrain Jogger Pet Stroller
---
Weight limit: 60 lbs
Handle: Adjustable handle with EVA foam grip
Brake: 1-step dual wheel brake
Buying a pet stroller for hiking doesn't always mean that you'll only be using it for hiking. These strollers are multi-purpose, and pet owners use them on several different occasions.
However, most of the stroller wheels are incapable of dealing with a variety of different surfaces. For example, a conventional stroller might get stuck in the sand, or slips on tiles. But Petique jogger, on the other hand, came prepared.
This jogger stroller features rubber tires that are highly shock absorbent. Whether you want to take your dog to the vet or a park nearby, Petique jogger pet stroller is the way to go.
This stroller model can carry up to 60 lbs. of weight, which means it's suitable for small to medium size dog. For the framework, Petique used stainless steel that increases the lifespan of the item.
Almost all of the strollers in this list feature reflectors for night safety. But in addition to that, Petique offers 3 pet leashes for additional security.
Another great thing about this stroller is its ergonomic handle. You can adjust this handle to cater your height or fold it for portability. Petique stroller handle also has EVA foam for better grip and comfort.
But, if for some reason you aren't in favour of pushing the stroller, then there is another possibility. Remove the front tire and attach stroller with your bike.
Sadly, the package doesn't include a connecting tube and customers have to buy it separately.
The PETIQUE All Terrain Jogger is also featured in our list for the best dog stroller for running.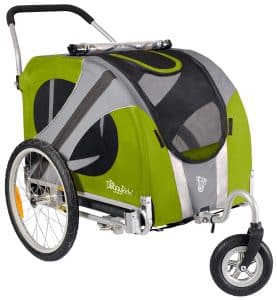 5. DOGGYRIDE Novel Dog Stroller
---
Weight limit: 110 lbs
Frame: Aluminum alloy metal frame
Wheels: Quick-release wheels
Padding: Padded dog rest at the front
If you have one massive dog or multiple small puppies, then it is essential to get a stroller that is big enough. Selecting a stroller with a more significant weight capacity is also crucial. This is where Doggyride novel stroller steps in.
This dog stroller has a weight capacity of over 100 lbs. Moreover, the inside of the stroller is spacious to fit 2-3 small puppies.
Are you thinking a stroller this big would be heavy? If yes, then you are wrong. Doggyride uses aluminium alloy for framing of this novel stroller. This lightweight metal makes the stroller easy to move and prevents muscle straining.
In addition to that, if you want to attach this stroller with your bike that too is possible. All of the wheels are quick release. However, the Doggyride bike hitch needs to be bought separately.
This stroller is not only comfortable to move, but it is also a joy to ride. Novel stroller features padded dog rest at the front side. This makes it possible for your puppies to feel cosy and at home while enjoying the view.
All of the dog strollers in this list comes with rain screen, but Doggyride does something different.
The rain-screen is already attached on the top of the stroller. Which means there is no hassle of installing the rain-screen each and every time. All you have to do is roll it down, and you are all set.
Buying Guide: Dog Strollers for Hiking
Don't know where to start your research for buying a pet stroller? Consider these following 6 features before choosing a stroller for your pet.
Weight Capacity
The very first thing to check is the weight capacity of a stroller. Most of the strollers have the recommended weight mentioned in the product description.
Also, if your puppy is in a growing phase, then it better to buy a stroller with a bigger capacity. In this way, you can keep using the same item for the upcoming years.
Size and Portability
There are two tips to choose the size of the pet stroller. First and foremost, the stroller should be big enough for your dog.
And secondly, it should be small enough to fit in your car. But as nowadays most of the strollers can be folded to fit in a vehicle. Portability is not an issue anymore.
Extra Storage
The last thing that comes into mind when thinking about pet strollers is the extra storage. But in reality, this feature is more important than you expected.
If you are going on a hike for longer hours, then you would probably be packing dog treat and water, right? If yes, then look for a stroller with an extra pocket to store all of your pet stuff.
Many pet strollers also come with a cup holder that can be useful for coffee or tea lovers.
Comfort Level
Lastly, you are buying the stroller for your pet, and it has to spend hours in the vehicle. So, make sure the inside is comfortable. A soft head-/paw-rest or padded bottom is a must.
In addition to that, the stroller better be water-resistant or at least have a rain cover to save your pet from getting wet.
Conclusion
A pet stroller can be beneficial for every pet owner in one way or another. Whether your dog is too lazy or too small to go hiking, it can come along with you and rest in the stroller.
But if you are still unsure about which stroller to get then let us help you.
Doggyride Novel Dog Stroller: Due to its high weight capacity, it is the best stroller for massive dogs. You can also use it for 2 or 3 small puppies.
HPZ Pet Rover Premium: As this item weighs only 22 lbs. it is perfect for people who find it difficult to push a bulky stroller.
Petique All-Terrain Jogger Pet Stroller: As the name suggests, this stroller is suitable for every trail, on-road, and off-road hiking.
These were our 5 recommendations for best dog strollers for hiking. Hope you enjoyed it.