If you're the lucky owner of two adorable dogs then you may be interested in getting yourself a double dog stroller to help get them around. The vast majority of these double dog strollers have a single area which is large enough for multiple dogs, which is fine most of the time but sometimes you want a double dog stroller with separate baskets for each of your fur babies. 
Having separate baskets for each of them has multiple advantages:
It allows each of your dogs to have their own space, so you won't find one of them hogging all the space while the other is cramped. 
In hot weather you can make sure there's plenty of air circulation around them to keep them from overheating
Equal opportunities for each of your dogs to have a great view from the dog stroller, avoiding having one taking up the view.
If you have a dog and cat then you can have them together without having to worry about them squabbling. 
If you're interested in finding the perfect double dog stroller with separate baskets for your dogs then you've come to the right place. We've reviewed the top ones currently on the market to help you find the right one for you.
We have a separate review of the top double dog strollers which includes dog strollers that have a single area for both your dogs.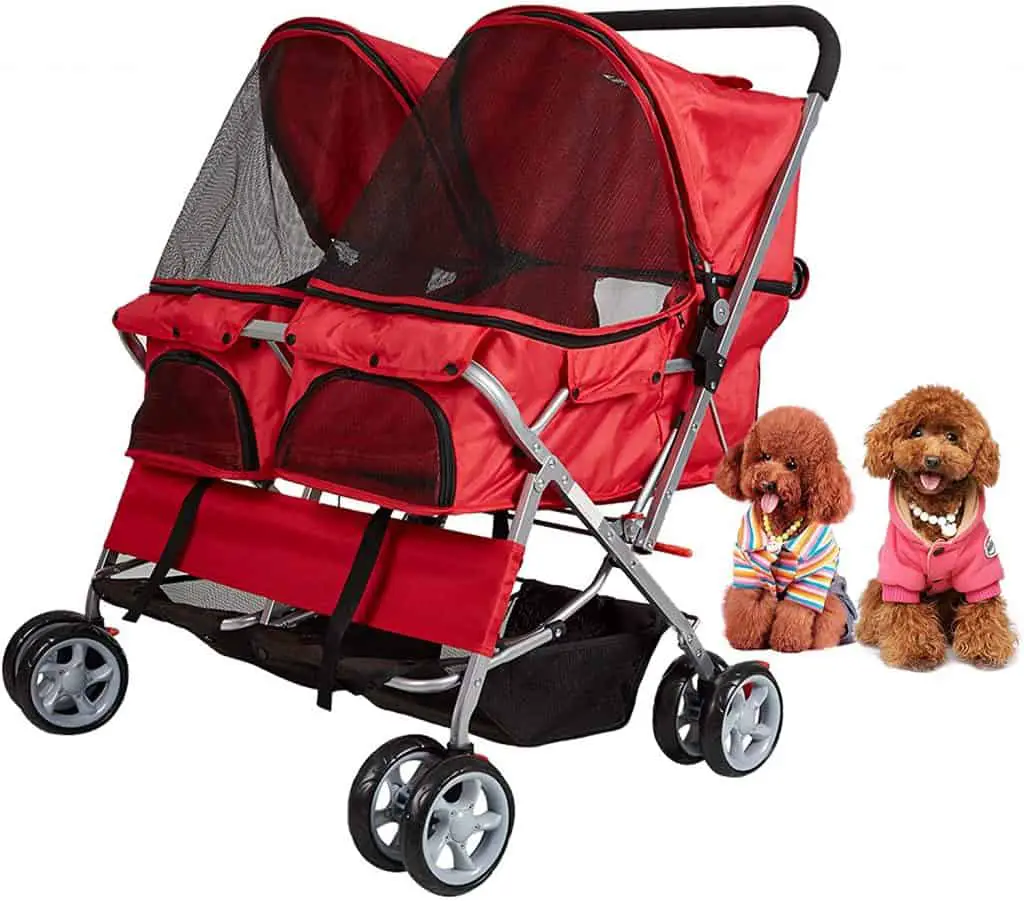 The front of the baskets allow for a great view out of the dog stroller, with the top front meshes able to be completely removed
The back of each carriage has a mesh door that can be opened up to allow your dog to get in/out with ease, while allowing your dog to look out the back when they're inside.
There are two baskets under the carriages to allow you to store items while walking your dogs.
Rear wheels can be locked, though each wheel has to be locked separately
Each of the compartments can handle dogs up to 30 lbs (13 KG)
Comes in red, blue and black
It is too wide to fit through some doors
2. Ibiyaya twin dog stroller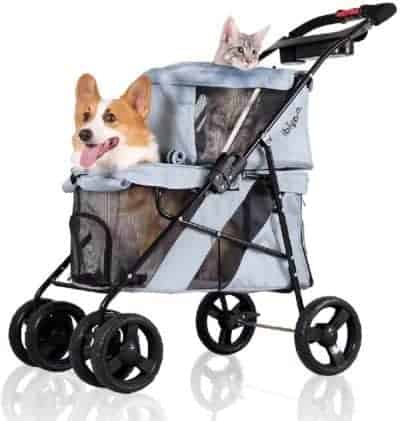 From one of the most trusted brands in dog strollers, ibiyaya
Rear wheels have breaks on, though you need to apply each break separately.
The front wheels rotate 360 degrees but have a lock on them that allows them to be locked straight forward, this helps if you're going over bumpier ground.
Comes with a detachable organizer to hold drinks and a small packets on the back of each carriage for carrying items
The top carriage can take dogs up to 13lbs (6kg) and the bottom carriage can take dogs up to 33 lbs (15kgs)
Includes ibiyaya's one hand fold mechanism to help you collapse your dog stroller while looking after your dog
Wide angle of visibility with mesh windows for your dogs
There are multiple entry points for your dog allowing you to choose the easiest at the time.
Collapses down to 33.5″ x 19″ x 19.5″ making it easy to store when not in use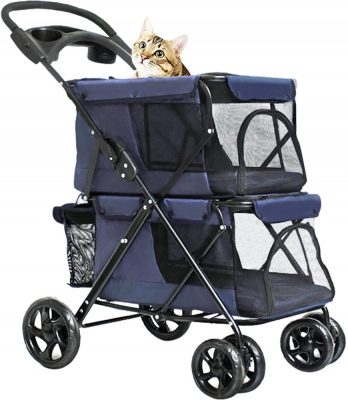 Each compartment is 21.7″ deep x 13.4″ wide x 11.4″ high meaning this double-decker dog stroller gives your pet plenty of space.
Panoramic view from each basket gives your dog a great view
Available in red, pink, coffee and blue
The bottom compartment is quite low to the floor so that dog won't get as much of a view as the one in the top.
Has an organizer on the handles to hold drinks and other small items while you're out on your walk.
Pocket on the back of the bottom compartment to allow you to store items while you're walking.
Collapses down to 35.4″ x 12.6″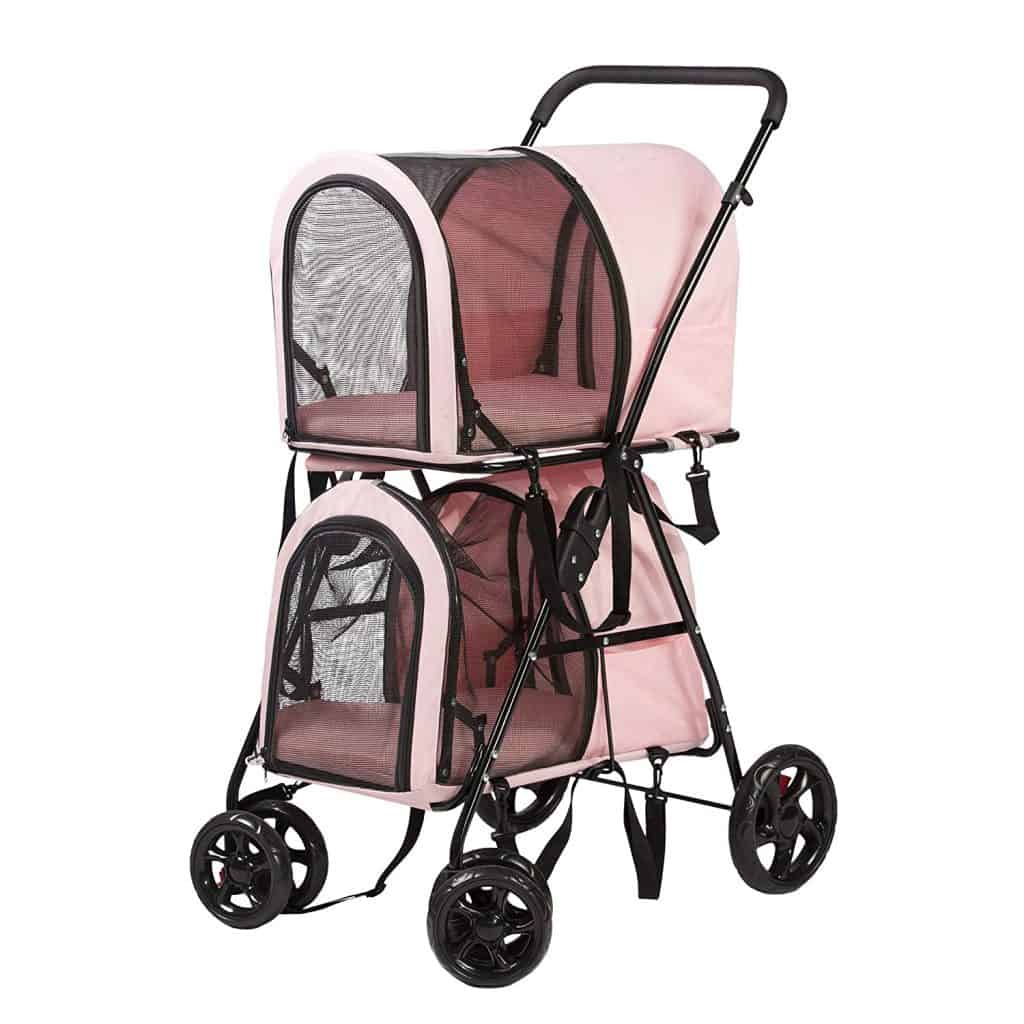 Each of the compartments can be detached and carried with the supplied straps which can be useful for a double-decker dog stroller.
Comes with cushions to go in each of the compartments.
Easy to collapse latches keep the whole thing secure while easy to collapse when you want to put it away.
The back wheels have breaks on them but you need to apply it on each wheel separately.
The front wheels can rotate 360 to ensure a smooth ride for your dos.
This can take a combined weight of up to 34 lbs (15 kgs)
Verdict
Finding the right double dog stroller that allows each of your dogs to have its own space can be challenging but hopefully, the above reviews have helped to make your search much easier. 
The Dporticus two-seater or ibiyayay twin are our favorites depending on whether you want your dogs side-by-side or one on top of the other. 
Remember if you're looking at getting a dog stroller then it is worth thinking about accessories, we've done a review for the top dog stroller accessories to help you in that as well.