Keeping a pet demands a lot of care and attention. If you have a pet at home, especially a dog, you need to ensure that you're taking them out regularly for walks. If you're going out for especially long walks or your dog is unable to keep up any more then it is still important that you take them out so they can get some variety and fresh air. 
However, if you wish to add a dash of style and utility to your dog stroller, choose from the plethora of dog stroller accessories available as well. From weather covers to comfortable seats, from zippered organizers to cup holders, from handle covers to wrist straps, you can find a whole lot of items that can make your dog stroller more utilitarian. 
Make sure that you choose your dog stroller accessories wisely to make your investment-worthy. The market has several options to offer, but you can choose from the best ones. 
Here are some of the aspects that you must keep in mind while shopping for a dog stroller accessories. 
Whether or not the accessories are a perfect match for the stroller you have
The material that the accessories are made up of
Whether the utilities these accessories offer match with your requirement or not
If the accessories are reasonably priced or not
Make sure that the accessories do not make the normal functioning of the stroller more difficult
Here are some of the best dog stroller accessories that you can opt for if you wish to make your evening strolls with your dear pet safer and enjoyable.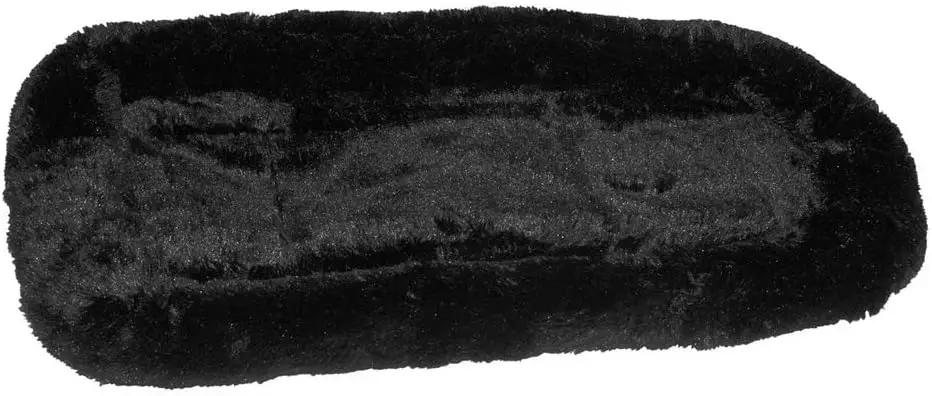 Have you ever wondered about how your pet might feel if you are going to take it for a long ride sitting on the thin layer of fabric that generally a stroller offers? If you really want to make the stroll worth enjoying for your pet, make sure that you have one like this attached to the stroller seat.
Features
This ultra-plush pad comes made of fine quality polyfiber to fit every variety of stroller perfectly 
The best part you can wash it using your machine and no hand wash is required
No matter if you have a pet cat or a pet dog, this fluffy, soft, and comfortable pad can serve both pets equally well
It comes with the dimensions 24″L x 12″W x 3″ H
It can be easily fitted into any variety of pet stroller regardless of its size and style
Pros
This pad is made of superior quality material which makes it a perfect one for the pets
It is durable and mere scratches cannot harm it easily
It is soft and comfortable for which the pets are sure to enjoy the rides even if the hours are long
Easy to wash and does not demand much for maintenance
The supple pad can be fitted in any stroller easily
Cons
It can hold water for a while, so if you spill water on it you'll have to let it dry so it's comfortable for your dog again.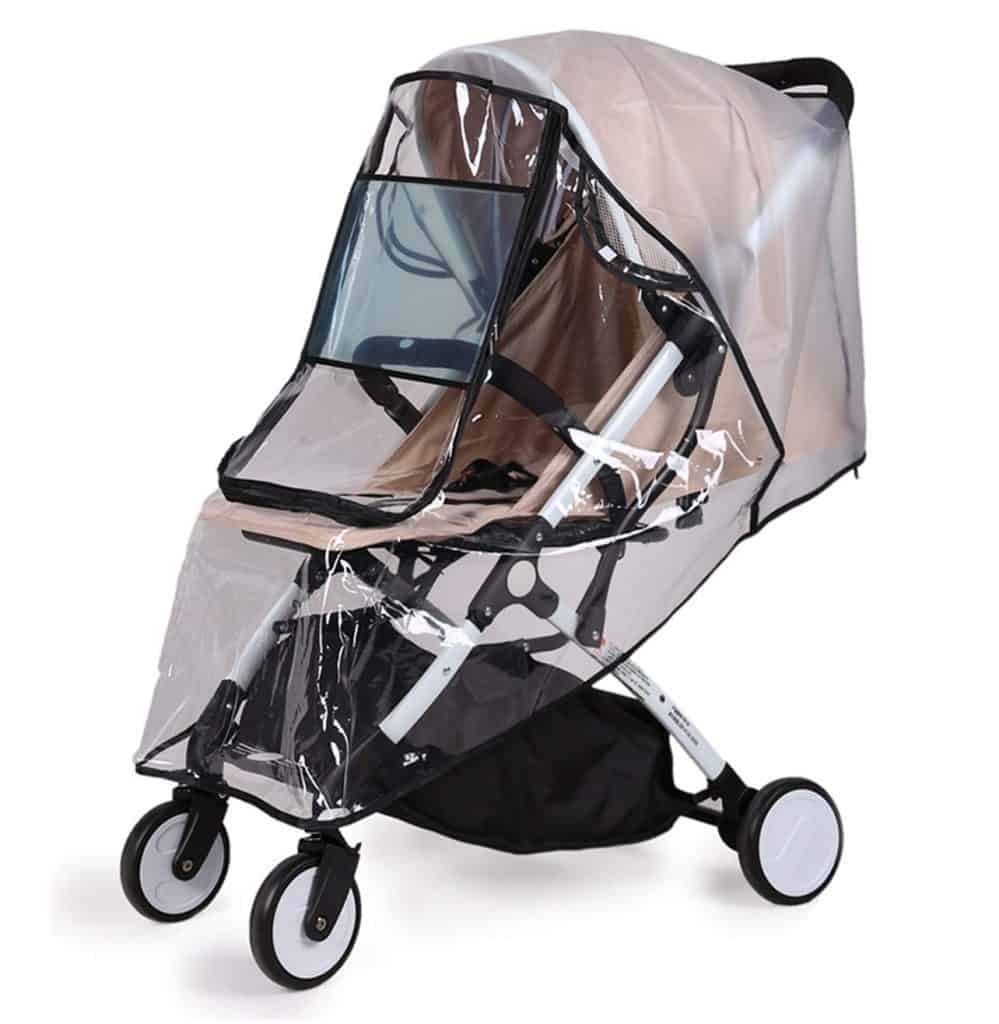 No matter if it is raining or snowing, you need to stay prepared for any weather hazard to keep your pet protected inside the stroller if the evening walk has become a part of your routine. While this stroller cover is primarily targeted at baby strollers it also works perfectly for smaller dog strollers, helping to keep your dog nice and dry, even on the wettest of days. 
Features
This rain cover comes in a size that fits almost any small dog strollers
This stroller rain cover offers all-round protection to your pet from wind, rain, snow, dust, and cold.
It also comes with a large see-through window entirely supportive of a grand vision which keeps the pets entertained and connected with the surrounding even when they remain covered.
The waterproof zippers of this rain cover do not allow even a drop of rain to enter the stroller and touch your pet inside.  
It features Velcro straps to keep the rain cover fixed to the stroller. Hence neither blowing wind nor splashing rains can take the cover off the stroller
Even when the cover is on, your pet can correctly breathe as the rain cover comes with air holes on both the sides that allow the fresh air to reach the pet
Pros
This rain cover is made of superior quality material that makes it a durable one
It protects the pet from rain, air, dust, wind, etc.
The pets can easily breathe even when they stay covered with this rain guard as there are plenty of air holes present on both sides
The pets never feel bored or monotonous as they can see through the cover all the time
It can be put on easily and taken off effortlessly as well
It offers foolproof protection to the pet inside
Cons
It does not provide complete protection to the undercarriage carrier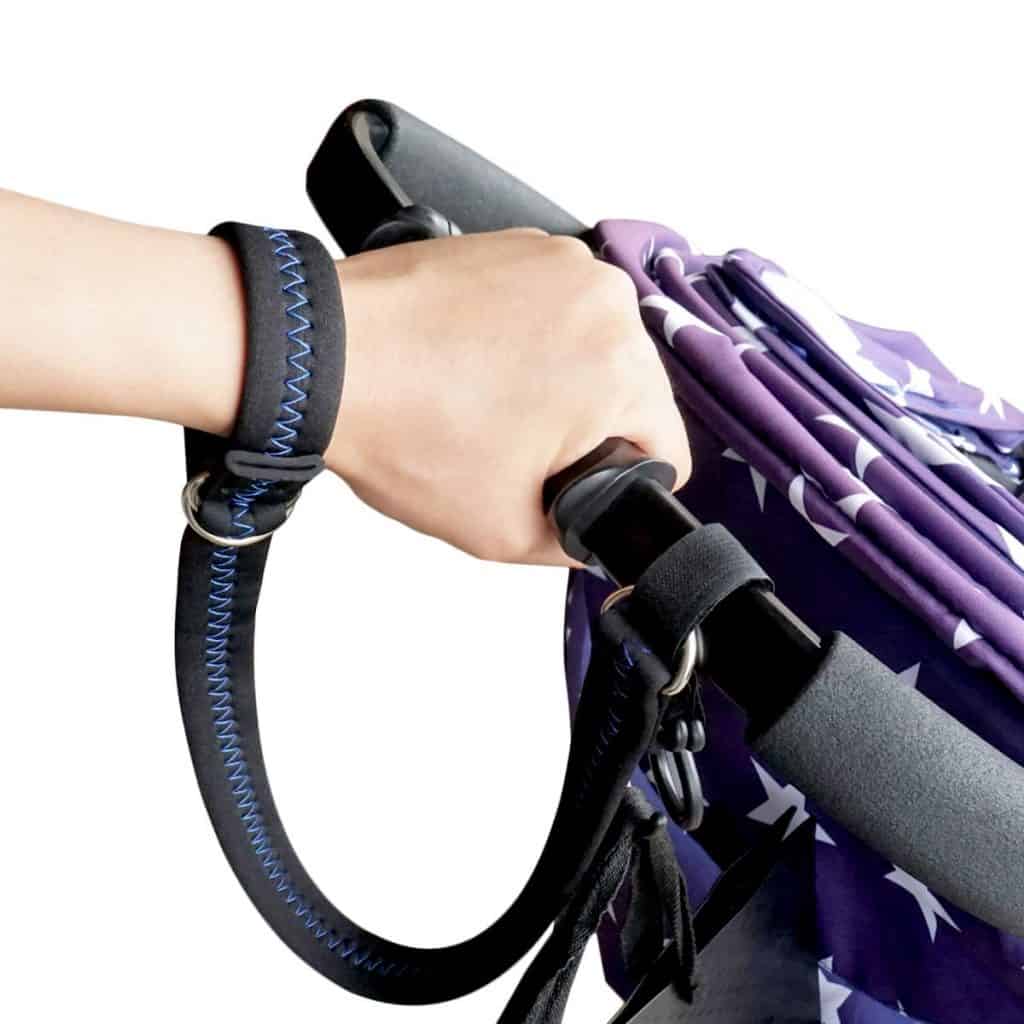 Have you ever thought about if one fine day your pet stroller slips out of your grip and starts rolling down the street uncontrolled, what you will do to make it stop and ensure its safety? If so then you might be interested in this product.
By having a wrist strap attached to the stroller, it would be much easier for you to maintain the grip and control over the pet stroller allowing it not to slip by. This wrist strap can be of much help for those to whom taking a stroll with the pet seated inside the pet stroller is a regular task.
Features
It comes with an adjustment ring
It is made of soft and durable material that ensures comfort and durability at the same time
It can be attached to the stroller holder easily and offers a firm grip
The length can be between 1-1.8 feet
Pros
It is foolproof protection from runaway strollers
It is easy to be washed and therefore offers effortless maintenance
The adjustment D ring is made of good quality metal that ensures gripping
Easy to install and can be taken off easily as well
It is of multipurpose use
This strap can also be attached to the collar of the dog when it is walking with you to keep control
Especially helpful for the areas with gentle or steep elevations
This wrist strap is available at a reasonable price
Cons
It is not elastic and hence does not stretch under pressure which might sometime make your wrist pain if the stroller starts sliding down the slopes abruptly. However, this is exactly the situation this strap is designed to help in so it's understandable it would tug.
It does take a few seconds to put on and off.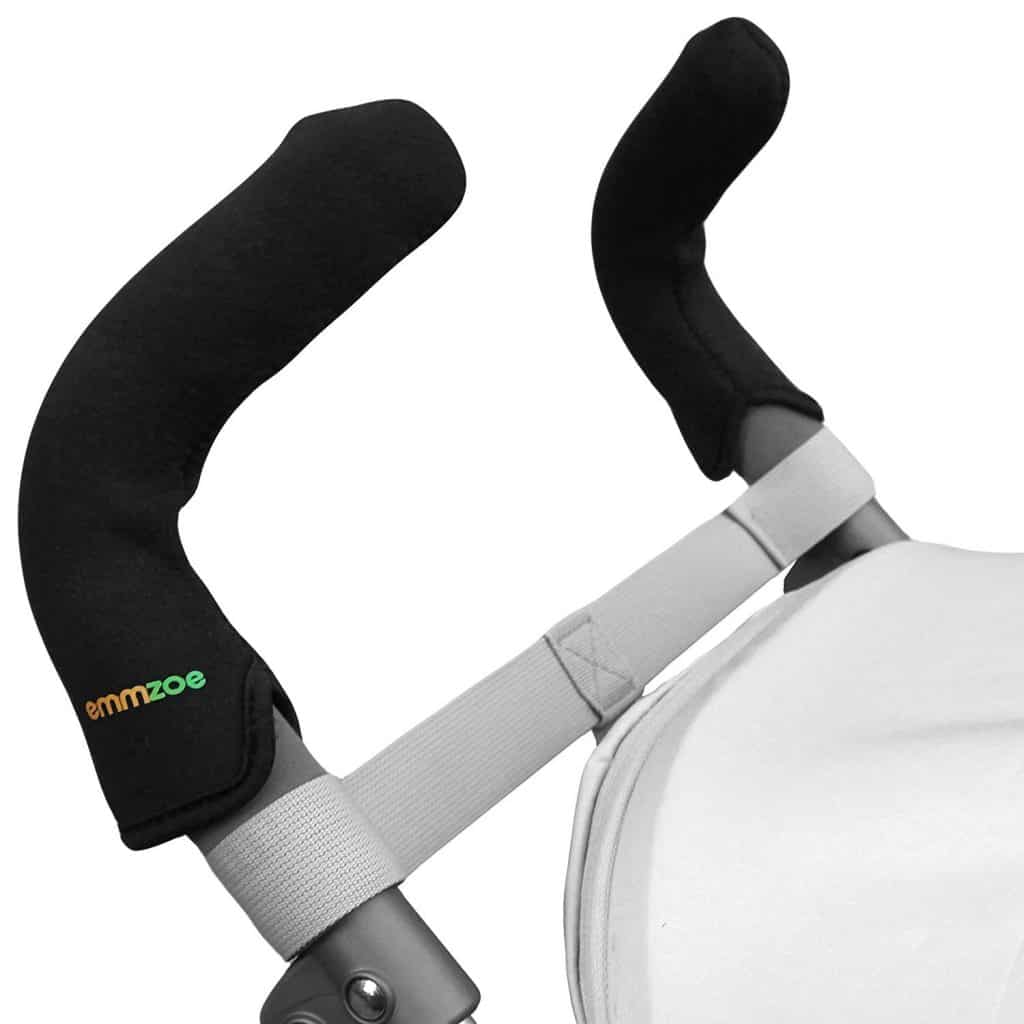 Most of the pet strollers come made of superior quality metal, which makes it durable and lustrous as well. The handles by which you hold the stroller are often covered with some rubber to make them more comfortable. However, if you are holding the handles for a long time, this can become uncomfortable.  
These dog stroller handle covers give you a bit more padding for the handles making it more comfortable for you.
Features
It is made of 80% nylon and 20% spandex
Crafted perfectly to cover the entire exposed area of the stroller handle
These covers can be washed easily
The covers are great protection against wear and tear of the handles
The covers come with a slip-on arrangement
The material is adjustable and stretchable
The black color helps in maintaining a tidy look for these covers 
Pros
These stroller handle covers are easy to be washed and maintained
Being stretchable, this pair of covers fits almost any variety of stroller handles
This pair acts as a protective shield on the stroller handles keeping them out of wear and tear for long
These covers offer comfort while holding the handles for long periods of time
The stroller covers are reasonably priced
Cons
Like the Model-T, you can buy these in any color you want, as long as it's black.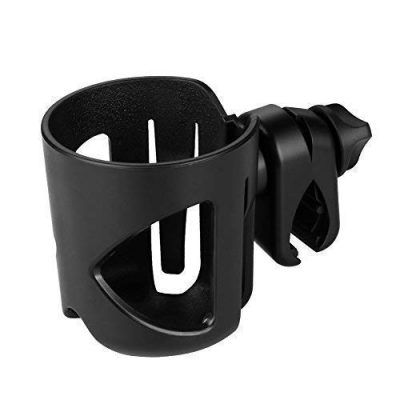 Can you think of anything more enjoyable than going out for a long walk with your dog on a beautiful sunny day? How about doing so with a nice drink as well. This universal cup holder gives you a convenient place for you to place your drink while you're walking.
While some dog strollers come with cup holders they tend to be an after thought and not particularly great. Whether this is because the cup size is too small or it is placed at an angle, limiting it's use. This universal cup holder is designed to avoid these issues. 
Features
This cup holder comes in a universal size that can accommodate any bottle perfectly
Any bottle having a diameter within 80mm can be easily adjusted within the cup holder by moving the clips a little
The cup holder features four cushions that ensure that the bottle does not get displaced on the move
Besides the bottles, you can also keep a coffee cup in it
It comes made of eco-friendly material
It is durable
It is lightweight and can be installed minus any hassle
Pros
It can be installed easily
It can be kept clean effortlessly
The holder clips are adjustable which means it can be installed to strollers where the bar is at any angle. 
It does not let the water or the drink spill
Cons
Not all sizes of bottles can be kept in it
One of the problems with with dog strollers is that they tend not to come with easy to access places for you to put your stuff, such as coffee, water bottles, dog treats etc. The Diono Buggy Buddy is originally designed for baby strollers but works just as well on dog strollers.
Features
Has easy to use Velcro straps for attaching the organizer to your dog stroller
The strap system means that the organizer is universal and can be used on any dog stroller.
It is made from a strong fabric, reducing the chances that it will rip.
Pros
Has two strapped areas that will hold on to bottles easily.
The design means that if you buy another dog stroller then you can use this with it.
There is a zipped compartment that you can put anything that you want to keep more secure.
The drinks areas are insulated to help ensure your drink stays the right temperature and that items in the main area aren't effected.
Cons
Depending on the size coffees you go for, the drinks area may be too small for your coffee.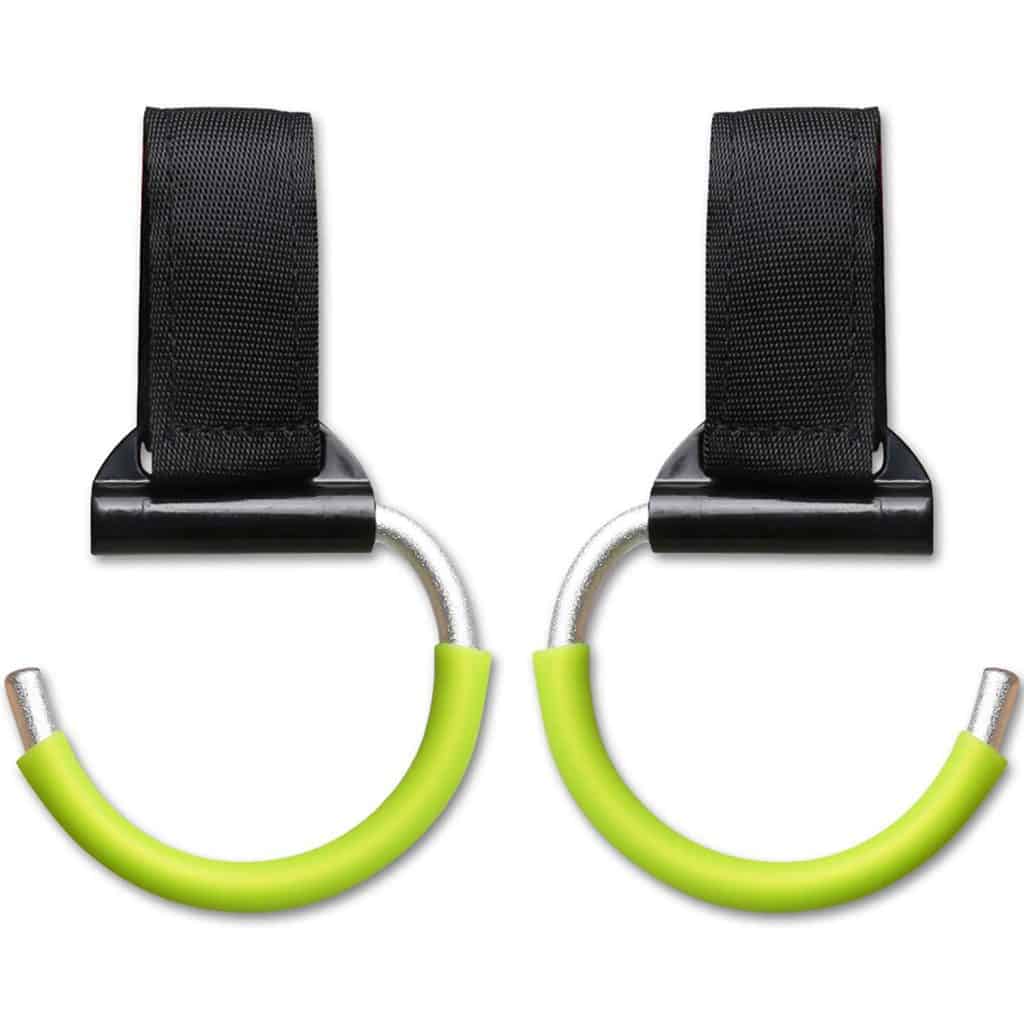 Another product that isn't specifically a dog stroller accessory but a more general accessory that will make your life so much easier. These hooks go onto your dog stroller's handles and allow you to attach your bag, shopping or anything else you can think of.
Features
Can support up to 22 lbs
There is 
Pros
Uses Velcro to attach the hooks to your dog stroller, which allows you to quickly remove them and attach them to something else should you wish
The straps have a non-slip grip on the inside, which prevents them moving around when they are attached to your dog stroller.
The hooks have a decent sized opening to allow things to be slipped over them easily while still being designed to ensure they won't come loose.
Cons
They only come in green.
It would be better if the green wrap went over the end, the exposed metal of the hook is more likely to damage stuff than a plastic.
Verdict
A lot of the lists on our website tend to provide you wish a list of options for you to pick between but this is not the case with this list. Be it a rain cover or a wrist strap, a cup holder, or a handle cover; each accessory comes with its utility. If you already have some of these, you can choose to buy the rest. 
Have we missed any of your favorite dog stroller accessories? If so, let us know and we'll review them to see if they should be added to our lists.