One of our readers got in contact with us to ask about whether we had any recommendations for the best dog strollers in the UK. We hadn't previously looked into this much as our focus is in the US but having been asked we felt we were up to the challenge. We therefore hope you'll enjoy our thoughts on the top UK dog strollers currently available on the market.
What you want to look for in a dog stroller doesn't change between countries, you're still looking for a comfortable ride for your pooch, but the dog strollers that are available in that country does vary. Obviously you could look to import a dog stroller from the US but this is likely to cost a lot in shipping and if you have an issue and want to return it, it's almost not worth your while.
|   | Product | Link |
| --- | --- | --- |
| | Innopet The Buggy Hercules Pet strollers | |
| | Wooce Medium-Large Dog Stroller | |
| | Innopet Sporty Dog Stroller | |
| | Innopet Turbo Dog Stroller | |
| | Innopet Turbo Dog Stroller | |

Features
Innopet is another trading name for one of our favorite brands, ibiyaya. They're well known for creating a great range of dog strollers with a focus on high quality and comfort. The Innopet Hercules Dog Stroller is no different.
The strong construction of the dog stroller means it is able to accommodate dogs up to 50kg (110lbs) in weight. Whether this is a single large dog or multiple smaller dogs.
The Innopet Hercules has access panels on both the front and back.
The air-filled wheels help to give a more comfortable ride for your dog.
The rear wheels have breaks on them, though they need to be applied separately
The handles of the Innopet Hercules can be set to multiple levels to allow you to comfortably hold it no matter how talk you are.
The heavy duty flooring, while practical, could do with more padding for a more comfortable ride for your dog.
If you'd like to read a more in depth review you can at our Innopet Hercules Dog Stroller Review.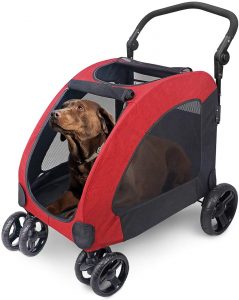 Features
Suitable for medium and large dogs and is able to accommodate dogs up to 60kgs (132lbs)
The handles have an adjustable angle which means you'll be able to comfortably use this no matter your height.
Has an opening on the top that can allow your dog to poke it's head up if it's tall or wants to look around without looking through the mesh.
There is mesh on the front and sides to give your dog a great view. There is a smaller mesh screen on the back that allows your dog to look back and see you.
It is only possible to open the front of the dog stroller, it would be nice if the back also opened like most other large dog strollers
It does not come with a cushion so you should look to get one for your dog to ensure their comfort.

Features
This roomy dog stroller can accommodate dogs up to 30kgs (66 lbs)
This can easily be changed to attach to your bike if you want to be able to cycle with your pooch in tow. The bike attachment is included.
Opens at the front and back to make it easy for you to put your dog in
The handlebar is adjustable so it can change position to suit you no matter how tall you are.
The rear wheels are air-filled for your dog's comfort
If your dog sits towards the back of the dog stroller then it may tip back.
There are small pockets on the back of the dog stroller, though it could do with more.
There are three leash restraints, one at the front and two at each of the rear corners. This allows you to prevent your dog from jumping out when you leave the windows open.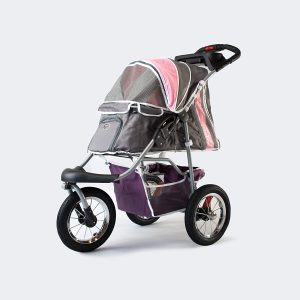 Features
Another great option from Innopet. This one is focused more for small to medium sized dogs.
A large basket underneath to allow you to store items in while you're out for a walk with your dog.
A large handlebar organizer for holding your drink and other items.
This dog stroller comes with a rain hood to keep out the rain if you get caught out.
Can handle dogs up to 25kgs (55lbs).
Has air filled tyres for your dog's comfort
The rear wheels have breaks with a single bar to allow you to lock both of them at once.
It collapses down to 36cm (15″) deep x 54cm (21.2″) wide x 91cm (36″) heigh meaning it can be easily stored when not in use.
Opens at the front and back to make it easy for you to get your dog in. The back panel can be rolled up and held in place with a toggle.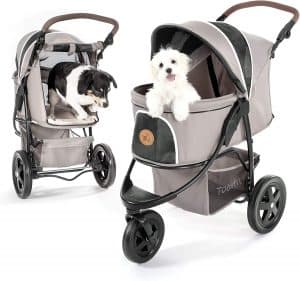 Features
The TOGfit Pet Roadster is very similar to the Innopet Jogger, though it does have some key differences, such as being able to handle more weight, not collapsing down quite as small, EVA tyres and no included organizer.
Comes with a cushion to keep your dog comfortable when they're in the dog stroller. It could do with being a little plumper though, it is probably worth replacing with your own.
Is able to handle dogs up to 32kg (70lbs), meaning it can handle more than the Innopet Jogger.
Opens at the front and the back to make it easy for you to get your dog in and out.
The rear wheels have breaks on them with a single bar allowing you to apply both breaks at once.
There is a large basket underneath the dog stroller to allow you to store items in during your walk.
You can change the angle of the handle bar allowing you to hold it comfortably no matter your height.
The dog stroller collapses down to 56cm (22″) deep x 58cm (22.8″) wide x 88cm (34.6″) heigh. Not as small as the Innopet Jogger but still a reasonable size.
One recommendation we have heard from people is that it is worth putting some weight at the front of this dog stroller. The reason behind this is that it is currently a little back heavy. This can mean that it can sometimes tilt backwards, which isn't ideal. We have also heard that due to how the TOGfit Pet Roadster is designed when you go to unfold it you end up putting the front plastic on the floor, which leads to it getting scratched. Something we hope TOGfit will fix in the future.
Wrapping Up
We feel that all of the above would be a great choice for your dog. If you're likely to be doing a lot of running/cycling with your dog then the Innopet Sporty is going to be the best choice for you. Apart from this is it going to be down to how you like the look of the dog stroller and the size of your pooch.
So what do you think of our picks for the top UK dog strollers? Do you agree with our list or do you feel that we have missed out on any of your favorite options? If so, we'd love to hear from you on our contact us page.