If you're a dog parent then you're likely to know that owning a dog is not cheap and finding budget friendly items can be difficult. A good example of this is finding inexpensive dog strollers. There are a huge variety of dog strollers available on the market ranging from $40 to $400! In this article we look at the top dog strollers under $50.
If you're looking for budget friendly, inexpensive dog strollers then you have come to the right place. Sometimes you need a dog stroller for a short time, whether your dog has just had surgery, or your dog has just had a litter that needs transporting to the vets, and you don't want to shell out a large amount of money on one of the more premium dog strollers than these will be worth a look.
If you are looking for something a little more long term then it may be worth thinking about whether it is worth spending more to ensure you get a high quality dog stroller that will last you a long time. Higher quality dog strollers are likely to last longer and avoid you having to buy another dog stroller, which can end up costing more than if you had purchased a higher quality one to begin with..
However, if you're not ready to buy a more expensive one or your budget doesn't allow, we have found the top dog strollers for under $50 currently available on the market to help you find the best option available to you.
|   | Product | Link |
| --- | --- | --- |
| | Paws & Pals Dog Stroller for Small Medium Dogs | |
| | Paws & Pals 4 Wheeler Elite Jogger | |
| | Tffnew Dog Stroller with Removable Liner | |
| | Doogo four wheel dog stroller | |
| | XXFBag Dog Stroller for Small and Medium Dogs | |
Our top picks for Dog Strollers Under $50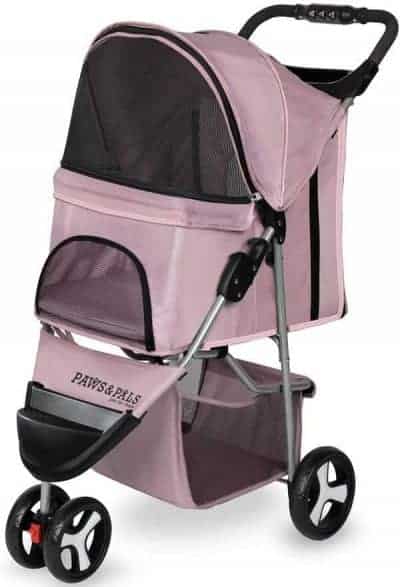 Our favorite of the top dog strollers under $50 is the Paws & Pals OxGord, which is one of two Paw & Pals options that we have on this list. Paw & Pals are a well known brand when it comes to dog strollers, we have reviewed more of their dog strollers for other lists but in this case we are looking at the OxGord three wheel dog stroller.
The Paws & Pals OxGord can fit up to two small dogs in it. Paws & Pals say that this inexpensive dog stroller can accommodate up to 50lbs, though this feels a little optimistic, we'd probably recommend sticking to 40 lbs wherever possible.
This dog stroller has plenty of mesh windows, providing your dog with a great view outside of the stroller and helps to prevent it from becoming stuffy. There is a peak window on the top to allow you and your dog to see each other while walking and the whole back of the dog stroller opens up to allow easy access. The back flap can be rolled up and secured with the velcro attachments if you want to leave it up.
If you're likely to go walking in the rain then it may be worth investing in a waterproof cover for the dog stroller to keep your furry friend dry.
The Paws & Pals OxGord comes with a basic cushion for inside the stroller. This will work to keep your pooch comfortable though you may want to look at replacing it with a softer cushion in the future.
If you're leaving any of the mesh windows open while you're going for a walk then you may want to use one of the two leash attachments the Paws & Pals OxGord has to ensure your dog doesn't make a break for it.
The Paws & Pals OxGord has a storage basket underneath the carriage. This allows you to store shopping or other items in while you're out and about on your walks with the dog stroller. While it can accommodate quite a size of items it probably isn't a good idea to put too many heavy items in there.
Paws & Pals have a couple ways of allowing you to collapse down the dog stroller, there are controls on the sides but there is also an attachment on the handlebar which allows you to easily collapse the dog stroller. Also on the handlebars is a tray that can hold two drinks and has a small area for other items.
The front wheel swivels 360 degrees and has a quick release catch for during construction and storage. The front wheel doesn't have a lock to hold it in position, something worth keeping in mind if you're looking for a dog stroller for running.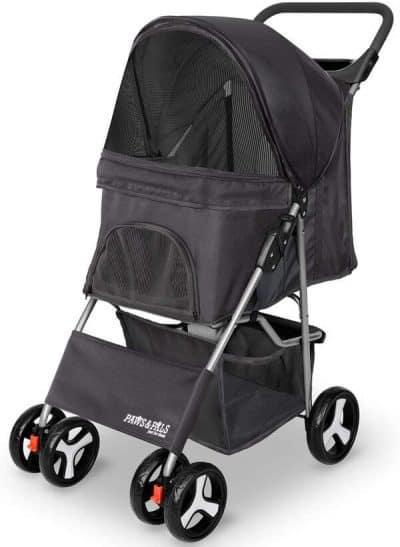 The second of the two Paws & Pals dog strollers on the list of cheap dog strollers. The Wheeler Elite is basically the same as the Paw & Pals OxGord but has four sets of wheels rather than three, depending on your preference. The front two wheels swivel 360 degrees for easy pushing and maneuvering.
Apart from having four sets of wheels the only other big difference between this and the OxGord is that while the OxGord comes with handle controls to allow you to collapse the dog stroller the Wheeler Elite misses this out and only provides you with the two controls on the side. We definitely feel this is a missed trick as the single hand controls make life much easier, especially when you're trying to collapse the dog stroller while looking after your dog.
The handles have a tray attached that holds two drinks and has an area for other small items.
Similar to the OxGord there is a peak window to allow you and your dog to see each other while walking.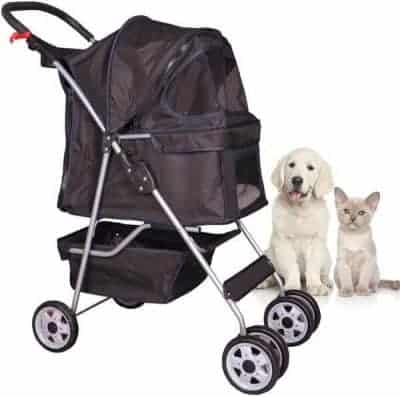 The Tffnew Dog stroller with removable liner is quite similar to the Paws & Pals Wheeler Elite, though feels a little cheaper. The carriage design is the same though a little bulkier. The Tffnew dog stroller can accommodate dogs up to 30lbs in weight.
The Tffnew also features a basket underneath the carriage allowing you to hold items while you're out walking. Though while it can accommodate items of a decent size be careful about putting anything too heavy in there as it may cause the fabric to rip.
This budget dog stroller features 6 inch front wheels that can swivel 360 degrees. The two back wheels have brakes on them, which need to be applied separately, though there aren't any dog strollers in this price range that have a brake bar.
The Tffnew dog stroller folds down to a very convenient 11 inches in height, which makes it easy for storage when not in use.
Comes with a cushion that will be a good start to keep your dog comfortable but it may be worth also using a blanket until you can get a better cushion for your dog.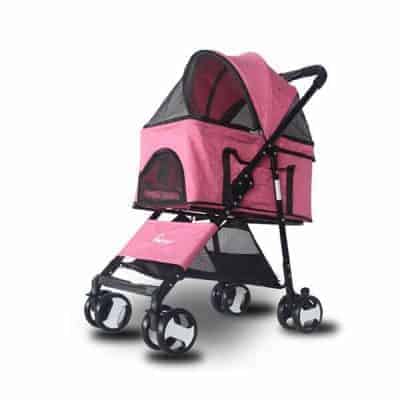 The Doogo four wheel stroller comes in three colors, pink, blue and gray.
This budget dog stroller features a one-handed quick fold mechanism, which is a great addition as anyone who has tried folding down a dog stroller while trying to keep control of a dog can attest to.
The wheels are all solid plastic meaning there is no additional shock absorption from them unlike air filled tires.
The storage under the carriage is smaller than any of the others on our list. This is only entry on our list that doesn't feature a tray for holding drinks or any other items. Overall this dog stroller had the least amount of storage out of all our recommendations.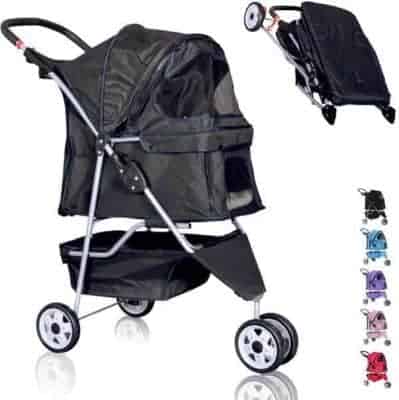 The XXFBag dog stroller, is the cheapest dog stroller on our list, though not by much. It is basically the three wheel version of the Tffnew dog stroller. While they are sold by different brands they are clearly produced by the same manufacturer, who is trying to take the design of the Paws & Pals dog stroller and replicate it to create their own budget dog strollers.
The XXFBag comes with a cushion, which like the other dog strollers in this list will be fine to start with but would be worth upgrading in time.
The wheels are all solid plastic so will not give as smooth of a ride as air filled tires but none on our list of the top dog strollers under $50 have air filled tires as this adds cost to their manufacture.
Comes in a range of colors including, black, blue, purple and red.
Finding a cheap dog stroller can be challenging as you want to make sure you are doing the best thing for your dog getting them a comfortable ride and trying to get something that will last.
We hope that the list of the top dog strollers under $50 we have provided help you to find a budget dog stroller that will fit your needs.
While you might be tempted to look for dog strollers under $40 or even dog strollers under $30 it is worth remembering that you will get what you pay for most of the time with dog strollers and we don't think you can get a dog stroller that will even last you a year if you go below the $50 price point.