If you're an active person or someone who is trying to improve your health then you may be looking at going out running. While we have these fond images in our minds of our dogs dutifully running along side us as we go out for a run this isn't always possible. 
Whether your dog is small breed or is just unable to run as long as you, due to injury, age or any of a plethora of reasons, then you may not be able to bring your dog along with you.
Dog strollers for running focus on allowing you to bring your dog along with you for the run even when they won't be able to keep up. They allow you to take your dog when you go for a run and don't want to leave them at home. 
This article looks at what you should look for to find the best dog strollers for running and reviews our top picks that are currently available on the market.
| Images | Product |   |
| --- | --- | --- |
| | Pet Gear NO-ZIP Double Pet Stroller | |
| | Petique All Terrain Jogger | |
| | ibiyaya 2-in-1 Pet Strollers/Bicycle Trailer | |
| | Pet Gear No-Zip Jogger | |
| | Towerin Large Pet Stroller | |
Our picks for the top dog strollers for running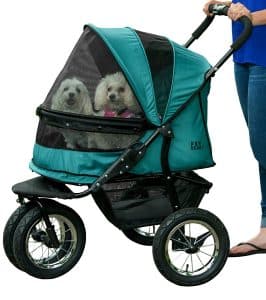 1. Pet Gear NO-ZIP Double Pet Stroller
---
Weight limit: 90 lbs
Wheels: 12″ air-filled tires
Brake: Quick rear foot brake
Opening: One-click button lock
This model is, without a doubt, one of the best options in the market and is even better if you have two dogs. It has a maximum weight-bearing capacity of 90 pounds. An easy-locking No-Zip entry makes this a great dog stroller for running and the addition of a plush bolster pad also helps to keep your pooch comfortable during your run. The Two internal safety tethers ensure maximum protection for your furry little compadres. Its weather-resistant feature is assured by a water-resistant fabric and weather cover. It also includes a wide carriage for two dogs.
The model also saves up on a great deal of hassle on the user's part with its no-zip feature. The ride is smooth, thanks to the 12-inch air tires that glide through the way irrespective of track type. 
The interior not only offers complete comfort to your dogs but also lets them enjoy the beautiful sights of the outside world via its panoramic view. It makes long journeys easier with its expansive storage basket and cup holder. The one-hand folding mechanism keeps you from hassling around, trying to get the model to unfold and makes transportation easier. Pet Gear stroller can easily handle heights up to 42" and has dimensions of 27 x 20 x 23 inches (L x W x H).
Pet Gear also do a very similar model that has a single wheel at the front. The addition of the second wheel helps to make the ride smoother.
The Pet-Gear No-Zip Double Pet Stroller is also featured in our top picks for: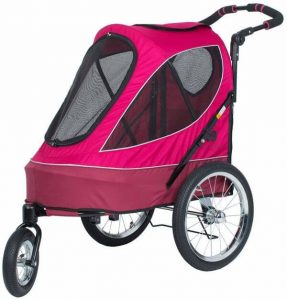 2. Petique All Terrain Jogger
---
Weight limit: 60 lbs
Handles: Multiple positions, adjustable handle with EVA foam grip
Wheels: Air-filled shock-absorbing wheels
Material: PVC mesh
As the name suggests, this stroller is built for all terrains and is ideal for hiking through the countryside. Its handle is adjustable into multiple positions and allows the user to operate at their ease. EVA foam grip ensures comfortable handling of the model. Safety has also been a primary concern of the manufacturers who installed a one-step dual wheel braking system in it. This keeps the ride safe and keeps the stroller from rolling down a slope. It also comes with a tire pump, which will come in handy if you need to fill them up.
The one-step dual wheel braking system is cleverly designed to ensure it stays out of your way when it is not enabled, meaning you're not going to end up kicking it while you're running.
Its large bike tires are ideal for a smooth trek and absorbing shocks from bumps and uneven paths. It can be folded down into a flat conformation for easy portability. It also makes long walks easier with its two expansive storage pockets, which can keep your mobile phones safe and store water bottles and snacks. Its lightweight and gentle design, however, should not deceive you, it is made up of highly durable PVC mesh and designed to last. Its fabric can be removed and easily washed, and the stroller can support weight up to 60 lbs. An optional rain cover is also offered, and it would be a wise investment.
The PETIQUE All Terrain Jogger is also featured in our list for the best dog stroller for hiking.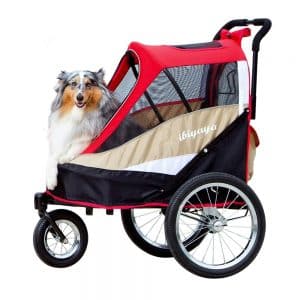 3. ibiyaya 2-in-1 Pet Heavy Duty Strollers/Bicycle Trailer
---
Weight limit: 66 lbs
Wheels: Steel wire wheels
Tires: Shock-absorbing air-filled tires
Wheel swivel: Front lockable swivel wheel
This two-in-one convertible stroller and jogger allows you to take your companion along on your jogging. Despite its compact size, it offers a spacious interior of 28 x 18 x 25 inches. Its frame is lightweight yet durable and sturdy. Due to its size this dog stroller can be moved easily between rooms, whereas some larger dog strollers can get stuck in doors, and yet support weights up to 50 lbs. It prioritizes safety with a closeable cabin and rear braking system.
It also comes pre-assembled, saving you the hassles of assembly. The air tires have to be pumped though, once you do so, it is ready for use. The machine cover is washable, and the model comes with an additional rain cover for weather resistance.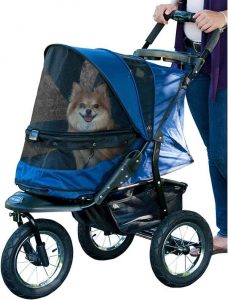 4. Pet Gear No-Zip Jogger
---
Weight limit: 75 lbs
Wheels: 12″ quick-release, air-filled tires
Material: Made of a water-resistant Nylon
Just like the previous model from Pet Gear, this stroller comes with an easy-locking no-zip entry. Combining sturdiness, a lightweight frame, and a spacious interior, this model delivers what pet strollers are meant to. As the name suggests, you can take it with you on a jog and enjoy the experience unhindered. It also has a one-hand folding mechanism, allowing you to operate with ease without fumbling for levers.
Water-resistant material covers the top while mesh windows provide a panoramic view of the exterior. Its 12" air tires are guaranteed to not go flat and allow to glide through your route. Comfort is assured with an ergonomic handle, while a rear foot brake ensures safety. Add shock absorbers to the mixture, and you've got a ride that both you and your little friend are bound to enjoy.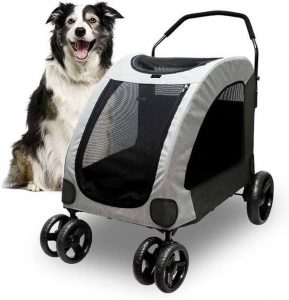 5. Towerin Large Pet Stroller
---
Weight limit: 120 lbs
Wheels: EVA wheels, which won't go flat
View: Mesh on all sides to allow your dog to look out
Towerin has merged comfort and functionality in one with their 4 wheel dog stroller, ideal for stability. This model comes equipped with oxford cloth, need more be said? Like other models mentioned on the list, this one too is lightweight, sturdy, and spacious. However, it gains an edge with a maximum weight endurance of 120 lbs, twice as much as some of its competitors. It also offers a rear storage bag to house effects for long walks.
It is built for either medium to large-sized dogs or two small-sized dogs. Its four-wheeled design and iron-pipe frame ensure safety and stability. While the wide mesh windows allow a spectacular exterior view from an expansive interior. A 360 degree swivel function and rear brake system ensure mobility and safety. 
The model is easy to assemble and comes with explicit instructions. It also allows you to adjust handlebars to two heights depending on your comfort, and be stored away with ease in a foldable position. With a highly durable framework and high weight endurance, this stroller is ideal for medium-sized dogs or two of the little fellows.
What to Look for In a Dog Stroller for Jogging?
There is a myriad of features that you can find in dog strollers  so knowing what features are important if you're looking for using your dog stroller for running can be really helpful when picking on. This section will try to help you with that. 
How do you plan to use it?
The first thing you should think about is how you plan on using the dog stroller. Do you just plan on using the dog stroller for running or do you plan on using it for day to day use as well?
If you're looking to us it for day to day use then you'll want to think about what you will need of it in those other situations. Do you need a basket for carrying stuff underneath? Do you need a cup holder to hold your coffee? 
Size of the Stroller
The size, more specifically the height, of your dog, is probably the biggest determining factor for which dog stroller you want to go for. This will sound obvious but if you have a puppy, then you will  want to look for a dog stroller that will fit your dog when it is fully grown. This will avoid you having to spend money for a larger dog stroller in a year or two's time. 
When thinking about the size make sure you're giving your dog some space to lay down on the base and still have some room. If you're going to go out for long runs then you will want to ensure your dog has space to move and stretch. 
Stroller Roof
If you're one of those hard core people who will go out for a run no matter the weather then you may want to make sure that your dog stroller is either waterproof or get yourself a waterproof cover for the dog stroller to avoid your dog getting wet. 
Having the ability for the dog stroller to open up to give your dog a completely unimpeeded view can be a nice thing to do when you're going running on a beautiful sunny day.
How well the dog stroller folds
How small a dog stroller folds down to varies from model to model. Some go to extreme lengths to ensure they fold down as small as possible, this  includes things like easily removable wheels. If you're going to be getting your dog stroller into the car and going for a long drive to a beauty spot then this can be useful.
This is more of a general thing but having a dog stroller that has an easy fold mechanism can be really helpful. After a long run you may not feel like faffing with complicated folding instructions.
Pet Gear have a range of dog strollers that incorporate their one-hand folding mechanism which is really useful.
Wheels and Tyres
When you're looking at dog strollers for running your're going to want to ensure that the wheels and tyres that you're getting ensure the comfiest ride for your pooch as possible. 
If you're taking your dog dog a casual walk on pavement then hard plastic or hard foam wheels will suffice but when you're running every bump or pot hole is going to be felt twice as much by you and your dog. 
This is why wherever possible we recommend that you look for air filled tyres. If you're planning on running on the pavement then it may not be as essential but if you're planning on running in the countryside then this is a must.
Braking System
If you're likely to be taking your dog and dog stroller for running in the countryside then it will be more important for the dog stroller to have decent brakes to prevent it from rolling if you stop on a bit of a hill.
Almost all dog strollers come with a braking system and they can be broken into two types. Ones that have a break on each of the two back wheels and ones that have a single braking bar across the back.
While having the single braking bar across the back is more convenient if you're using a dog stroller normally but if you're using it for running then you will want to make sure that you're not going to be hitting your feet on the bar while you're running.
Front locking wheel
It is very desirable to have your front wheels being able to swivel 360 degrees if you're using a dog stroller. However if you're out running and the front wheel gets knocked sideways it can end up getting damaged or worse, start your dog stroller tipping forwards. 
For this reason most dog strollers for running will look to have front locking wheels, what this does is allow for the wheel to swivel 360 degrees during normal operation but when you're looking to go for a run you can lock the front wheel to only face forwards.
This does mean that you'll need to lift the front of the dog stroller up while running to turn but it will result in a safer run.
Sturdy Frame
If you're going to be running over rough ground then the frame of your dog stroller is going to take a bit of a beating. Most dog strollers are designed to be able to handle some punishment but may not stand up to repeated runs across rough ground.
Cleaning
While going for a run through really muddy ground is not going to be advisable with a dog stroller your dog stroller is likely to get dirtier than it would if you were just using it for walking. Keeping your dog stroller clean will also help you keep your dog wanting to use it. If the dog stroller starts to smell because of dirt then you're less likely to want to go near it and your dog's nose is far more powerfull than yours! 
As a general tip, if you're able to clean the dog stroller soon after it gets messy it is likely to be easier to get the dirt off, though you may not feel up to it after a nice long run.
Personal Preferences
Of course, there's no point getting a 
Important points of consideration are listed below, but some owners have their own choice about color, style, etc. There is no appropriate guide in this area as it depends on the buyer, but one must balance looks with functionality. Moreover, you can try to choose the color based on your dog's personality. If you have no idea what color they like, then consult a pet specialist.
Accessories you may want to consider
If you're using your dog stroller for running then you may want to consider whether you also want to get some of these accessories. Some of the dog strollers above come with these features but we've included them here in case you decide to go for a different model.
We have done a whole article on the top dog stroller accessories but ones you might want to consider if you're looking at dog strollers for running are:
Bottle holder
If you're out running then you're going to want to keep yourself hydrated. Having your water bottle easily to hand is the easiest way to do this. While you could put it in a backpack or in some pockets around the dog stroller you want to ensure your water is easily accessible to allow you to drink when you need it.
You can find a range of bottle holders for your stroller on Amazon. Just make sure that you're getting one that will hold your bottle securely.
Restraining Strap
If you're out running and you trip, the last thing you want is for your dog to carry on down the path 
Do remember though, if your arm is attached to the dog stroller then if you trip you may not be able to use it to stop your fall. 
Summary
When it comes to choosing the ideal dog stroller, you must consider your needs first. The budget is of paramount importance, and so are the features offered. You must value specs like weather-resistance, portability, foldable frame, high weight capacity, appropriate size, compact build, color, and design. Try to make a one-time investment for a durable product instead of ending up with a cheap model. The models mentioned above are designed to minimize your effort and deliver an all-in-one experience.
The market is loaded with similar products, yet our choices were targeted specifically towards the more mobile models. If you are the sort of person who enjoys strolling through the nearby park or run along the jogging track, these models are ideal for you. Not only will they keep you in the company of your beloved dog, but they will also allow you to jog unhindered. The best part is the attention given to safety and safe-design, allowing you to let go of your worries and have a nice time. What are you thinking? Grab a stroller and go out for a stroll!