Are you looking to go on long hikes with your dog? How about taking them on a hunt with you? In these cases, you may be interested in getting them a tactical harness that will allow them to carry supplies on their body.
By allowing your dog to carry supplies, it frees you up to focus on carrying your own items and allows you to put essential items for them on their body. A great example of something you can put into your dog's pouches is a carrier sling, which can be used for carrying your if they get hurt while you're out walking.
Why get a tactical harness?
There are many reasons for you to look at getting a tactical harness. These include things like allowing your dog to carry their own supplies, harnesses that will spread pressure against the whole of their body, the patches allow you to customize the harness much easier than normal harnesses.
What to look for when buying a tactical harness
When you put a large amount of material against your dog's body, it is important to ensure that the material is breathable and isn't going to cause your dog to overheat.
By having adjustable straps, you can help to ensure the harness against your dog's body to ensure that when they're running around, it doesn't rub against them.
While the majority of harnesses you will look at have been designed to ensure that your dog is securely held, some don't take this into consideration enough, and the design allows for your to slip out of the harness.
Interchangeable bags, not all tactical harnesses come with the pouches that you can attach/remove. There are plenty you can buy separately, such as these, but if you can get them at the same time, that is preferable.
You will likely want to look at ensuring the harness is a step-in harness. This makes it easier for you to get the harness on your dog.
Whenever you're getting a harness it is important that you ensure you're measuring your properly. Failing to get the right size for your can result in:
Your dog is able to slip out of the harness.
Rubbing where the harness isn't fitted properly
Any restraining force not being evenly distributed across their body.
How to get your used to the tactical harness?
If your dog isn't used to wearing a harness, then this will be a big change for them. It would be worth starting off by putting the harness on when they're just at home; let them get used to the idea of wearing it. Don't put any pouches on it yet. Your may initially try to get out of the harness; just reinforce good behavior while they're in the harness, and over time, they will get used to it.
After letting your get used to wearing the harness at home, start using it when you go out for walks only. This will allow them to start associating the harness with going for walks and it will allow you to keep any eye on them and make sure they aren't overheating in the harness. Most harnesses are designed to be breathable but it is still going to be warmer than not having a harness on.
Once your is used to wearing the harness while going for walks you can start putting the pouches on and items in it. Remember not to overload your , they are not pack animals.
Now that we have establish why you might want a tactical harness and what to look for, let's look at the top tactical harnesses that are currently available on the market.
|   | Product | Link |
| --- | --- | --- |
| | ICEFANG Tactical Dog Harness with 4X Metal Buckles | |
| | ICEFANG Tactical Dog Harness with 2X Metal Buckles | |
| | OneTigris Gladiator Tactical Dog Harness | |
| | Auroth Tactical Dog Harness | |
| | ZJDU Dog Tactical Vest Set | |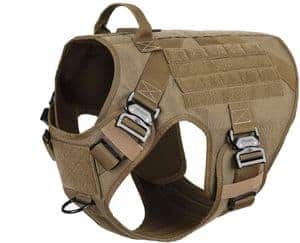 Are you worried about your dog being able to break the plastic buckles on harnesses? Well, you won't need to worry about that with the ICEFANG Tactical Harness with 4x Metal Buckles. As the name suggests the four buckles that hold your dog in place are made of metal. The manufacturer claims that the metal clips and buckles can handle up to a massive 1000lbs!
The ICEFANG Tactical Harness with 4x Metal Buckles has a handle on top to allow you to easily hold your dog. This is positioned above the strong metal clip for you to attach your choice of leash to. Due to the positioning of this metal clip, if your dog pulls against the leash the pressure will be distributed across their body rather than around their throat.
The ICEFANG Tactical Harness has multiple velcro panels, one on either side that can support MOLLE pouches. On the top there is a 4″ panel that you can attach anything of your choice to, and there is a 3″x4″ panel on the front chest that you can put any patch you want which can help identify your dog, personally, we'd love to put a custom name patch on there.
This is our favorite pick of for a tactical harness as the combination of metal buckles, flexibility and price make it a winner.
This is exactly the same as the one above but this only has two metal buckles instead of the 4 above. This does mean that it is more likely that the plastic buckles will break but it is still pretty unlikely. ICEFANG has prioritized making the front two buckles out of metal as these are the buckles that are likely to take the biggest strain if your dog is pulling against them.
While this is still a great harness unless you have a good reason to go for this version we would recommend that you go for the version that has all four buckles as metal.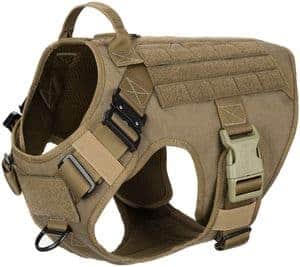 The OneTigris Gladiator Tactical Dog Harness features a double handle to allow you to hold them whether this is preventing them from running off or helping them make a jump they wouldn't be able to make by themselves.
There are two panels on the side of the OneTigris Gladiator Tactical Dog Harness which you can attach MOLLE pouches to. We were disappointed that none were included when purchasing this tactical dog harness, though you can buy them separately here.
As with all harnesses, it is important that you measure properly and ensure that you're buying the right size for your pooch.
The Auroth Tactical Harness comes in a range of colors and sizes to ensure you're able to find the right size for your pooch in a color that you'd like.
There are two velcro strips along the back of the harness, each of which can be laced with elastic string to hold items securely to your dog's back. The velcro strips are compatible with MOLLE pouches, though other harnesses on our list have a larger area for the pouches to go. The harness does not come with any pouches to be used with the system.
The harness uses two plastic buckles to secure your round your dog's body and you'll need to slip the top of the harness over your dog's head. When correctly adjusted, your dog should not be able to get themselves out of this harness.
There are two metal leash attachments on this harness, one on the back and one on the chest. The design ensures that if your dog pulls against the leash, the pressure will be distributed over their body for safety.
Auroth uses 900D nylon for the harness, ensuring that is it strong. They include breathable air meshes to help keep your dog cool while wearing the harness.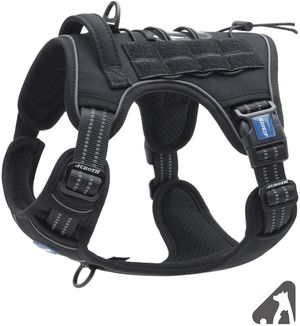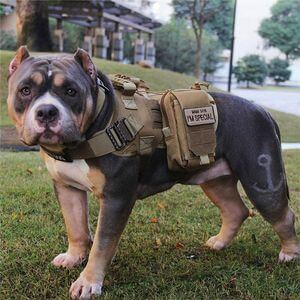 The harness is made from 1000D nylon and has breathable padding all over for their comfort and to help avoid your dog from overheating.
The ZJDU has three straps to hold the harness in place. One is around the front and is held in place using 2 metal buckles. These will take the vast majority of the strain should your dog pull against you. There are also two straps around your dog's middle. These straps only use plastic buckles but they shouldn't be taking too much strain so this shouldn't be an issue.
One downside for this is that the attachment point for the leash is made from plastic. At this price point, we feel that the attachment point should be made of metal rather than plastic.
Summing up
We hope that this has helped you make an informed decision about what may be the best tactical dog harness for you and your dog. The above are the best that are currently available on the market, though if, and when, new, better, tactical harnesses become available we will update this with their review.
One piece of guidance if you're putting medical kits in the pouches of your dog's tactical harness, always ensure you're carrying your own. This way if you get separated and hurt then you can still perform first aid on yourself.
Is there a tactical harness that you've used and you feel is missing from our list then let us know on the contact us page and we'll be sure to it out and, if it's a contender for the top tactical harness, add it to this page.