Whether you're looking for a dog stroller for your large dog or multiple smaller dogs the Ibiyaya Hercules is a great option. Ibiyaya really focused on creating the best heavy duty dog stroller they can when they were designing the Ibiyaya Hercules and it shows in the materials/design.
In this article we are going to have a deep look at the Ibiyaya Hercules looking at its strengths and weaknesses to help you make the best choice when you look for a heavy-duty dog stroller.
If you are interested in seeing dog strollers for large dogs you can find our list of the top dog strollers for large dogs.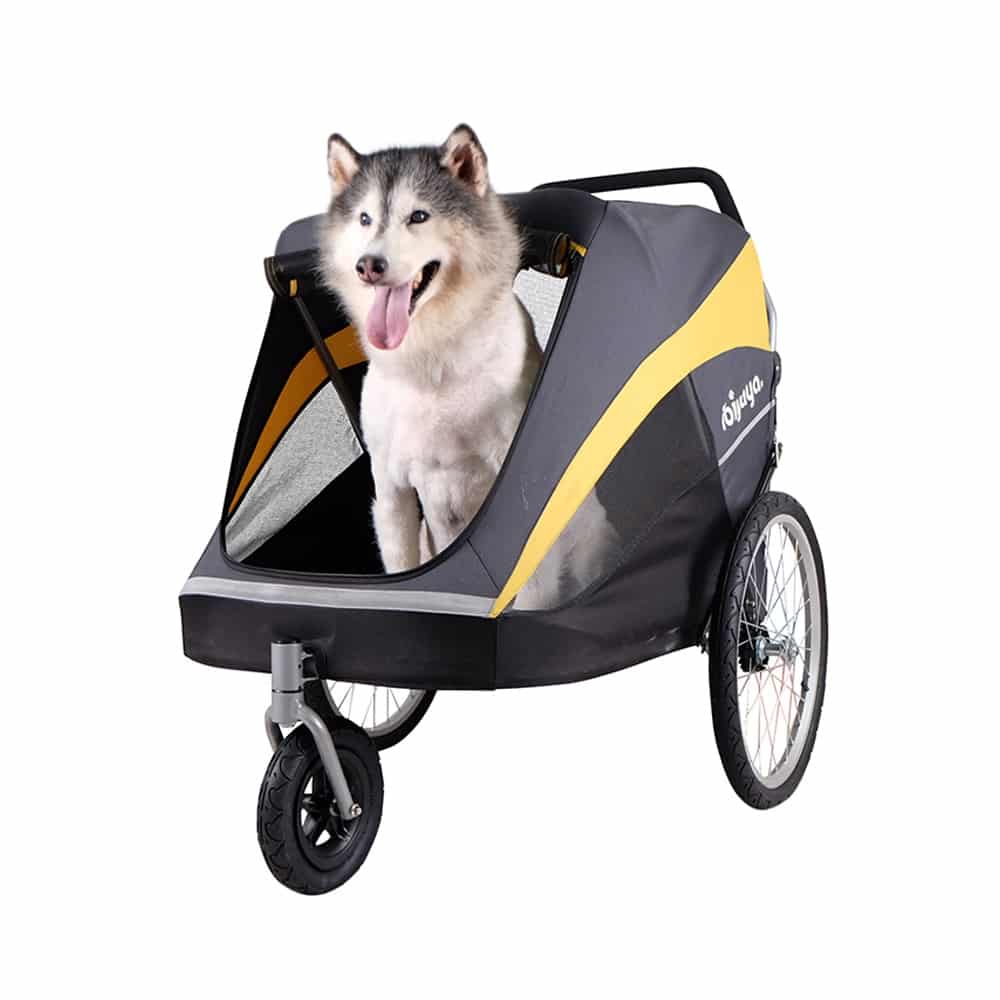 The Ibiyaya Hercules is one of our favorite picks for a dog stroller, being featured in out overall list of the best dog strollers. This heavy duty dog stroller can handle up to 110 lbs (50kg) without an issue. 
It comes with some nice little extra features such as having bottle holders on the back, along with a pocket that gives you storage for small items to avoid having to hold them. They also allow for the handlebar to be positioned at two different heights to help get the right height for you. 

Size
The Ibiyaya Hercules' carriage measures  W23.5″ x D31″ x H27″, which gives plenty of room for you to comfortably fit most large dogs or many smaller dogs such as pugs, dachshunds or terriers.
While there is plenty of room for large dogs to fit, it probably isn't going to be a suitable substitute for a crate for large dogs. For smaller dogs this is unlikely to be an issue.
When the Ibiyaya Hercules is all put together it can be quite a tight fit to get it through some doors.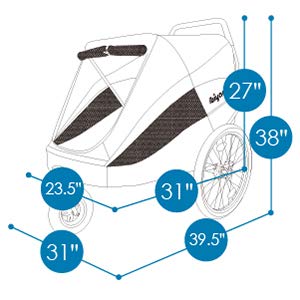 Flat dimensions
When the Ibiyaya Hercules is folded flat it goes down to an impressive 19.5″ height. Considering the size of the dog stroller this is a pretty good size
There are straps on the side of the Ibiyaya Hercules that allow for you to keep the dog stroller as flat as possible.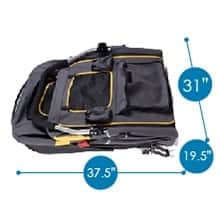 Construction
Frame
The Ibiyaya Hercules is designed to be heavy duty to allow you to put large dogs or multiple dogs in the dog stroller without having to worry about overloading it. For this reason Ibiyaya have chosen to make the frame  from aircraft-grade aluminium.
By using aircraft-grade aluminium they are able to keep the weight of the Ibiyaya Hercules to a tiny 33lbs (15kg)
Wheels
To allow for the Ibiyaya Hercules to be as flat as possible when collapsed it has been constructed with wheels that are detachable through the use of a catch. This is a nice design feature as it allows them to be detached and stored, while the catch ensures you feel that the wheels aren't going to come off when you're using it. This is all part of the heavy-duty approach that they have taken for the Ibiyaya Hercules. 
The rear tires are air filled, which helps to give a smooth ride and can be inflated using a standard bicycle pump. While the Hercules used to also have an inflatable front tire, they have updated it in 2019 and it no longer needs inflating.
The wheels come with reflectors on them to help ensure you're seen at night. It's a little thing but it shows the thought that has gone into this.
The Ibiyaya Hercules comes with breaks for the back two wheels, which allow you to prevent it rolling. This can be useful for when you stop near a slope or if you want to leave the dog stroller open to give you dog somewhere to go while you're stopped.
When attached, the wheels give the base of the dog stroller a 11 inch clearance from the ground. Useful for if you want to go over some obstacles, though I probably wouldn't go running through a field of tree stumps with it. 
Material
The Ibiyaya Hercules uses a strong fabric for the majority of the cabin but multiple mesh panels to allow for great ventilation for the stroller. There are mesh panels on the front and back, to allow your dog to look out but also on the top to give you unrestricted access to look into the dog stroller while you're walking. 
To avoid your dog getting wet when it is raining the Ibiyaya Hercules comes with an included vinyl cover that you can use to cover up the top and front mesh panels to prevent the rain getting in.
Base of the dog stroller
One of the most important things to think about when you're looking at a dog stroller is the base. As your dog will be resting on it while using the dog stroller it is worth ensuring it is comfortable for them. 
The Ibiyaya Hercules provides a heavy-duty base for the dog stroller but while it is convenient for cleaning, it won't be overly comfortable for your dog. It is therefore worth looking for a cushion to go on the base to make sure your dog is comfortable.
While a rug will provide some comfort some people have got a crate pad and cut it to size (about 22″ x 32″ should do), which would be a much better option as long as it doesn't get in the way when you fold the dog stroller up.
Assembly and disassembly
The Ibiyaya Hercules is designed to be as quick and easy to set up and take apart. This is a great feature as you don't want to be faffing around for ages getting your dog stroller set up when you've got to your destination for a walk.
Ibiyaya have provided the below video to show just how simple it is to assemble and disassemble the Hercules dog stroller.
Access
The Ibiyaya Hercules has mesh panels on both the front and the back to allow you to access the dog stroller easily.
The back access panel can be completely opened up, this is useful for dogs who like to be able to see you while you go for your walk together. There are also hooks to allow you to hold the back panel open to allow your dog to get in and out of the dog stroller as they wish.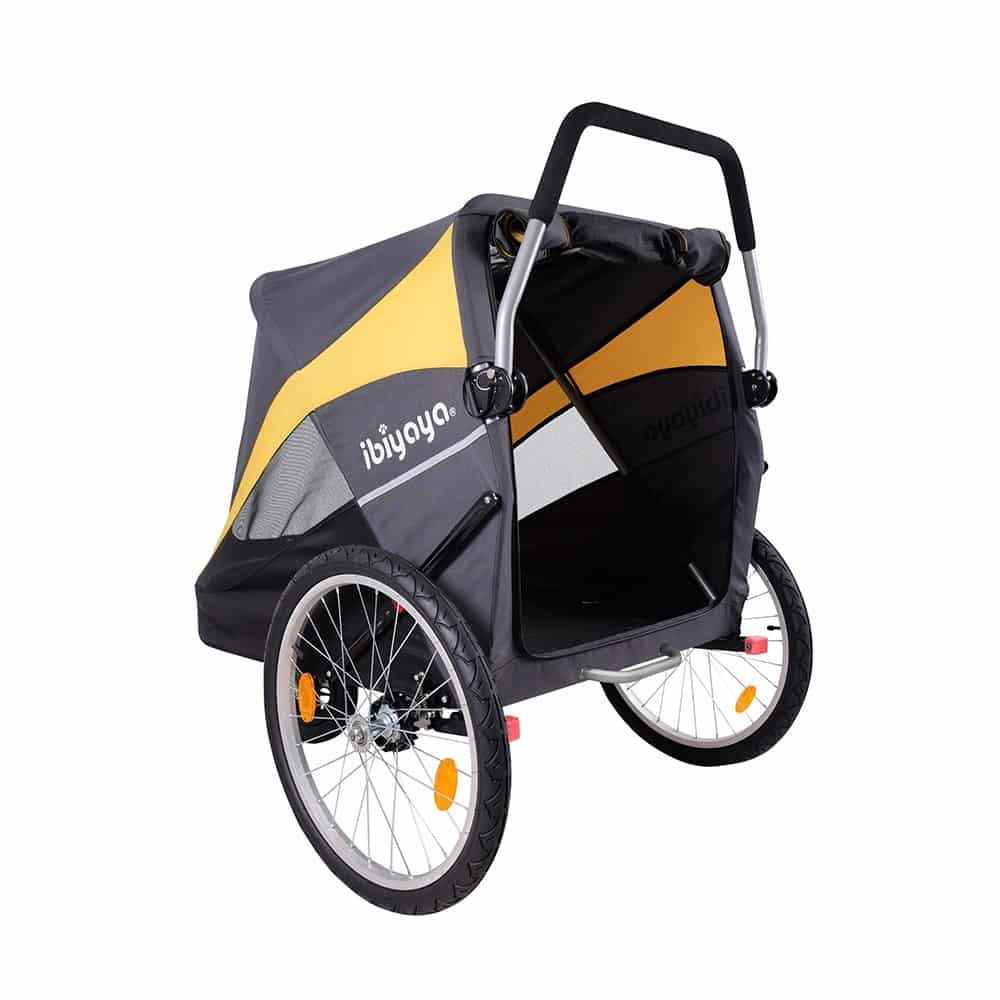 Frequently Asked Questions
Is this the same as the Innopet Hercules?
Innopet is actually another trading name for ibiyaya. It appears to be primarily based around where they are selling their dog strollers, they appear to use the ibiyaya tradename in the US while using Innopet overseas.
Summing up
Overall we think the Ibiyaya Hercules is a great heavy-duty dog stroller that will allow you to easily transport your furry 'little' friend around. It provides plenty of space inside the carriage for pretty much any large dog or multiple smaller dogs if you wish. 
While the tires are perfect for on the road or path they won't be great for on sand or a beach, you would want a dog stroller with wider tires for that.



Sources:
https://ibiyaya.com/en/