Dog strollers are a great way to have a walk or jog with your pet. There are small and large pet carriages for all purposes.
Now the tricky part is finding a pet stroller for your dog that fits in your budget. Yes, you want to treat your dog but not by spending more money than you have, right?
This is where we can help you.
After extensive research, we have compiled a list of the five best dog strollers under $100. These affordable pet strollers are equally efficient and well-made.
We also have a buying guide and FAQ section at the end, don't forget to check those out.
So, what are you waiting for? Let's begin.
5 Best Dog Strollers under $100 Review
For a detailed review of each product, keep reading.
Pet Gear No-Zip Happy Trails
---
Maximum weight capacity: 35 Lbs.
Stroller Weight: 13 Lbs.
Entry: Zipperless
Material: Not specified
The first recommendation on our best dog strollers under $100 list is the No-Zip Happy Trails from Pet Gear. This product made it to our list because of several reasons. The first one being, it's inexpensive.
However, being affordable is not the only quality that we liked about this pet carriage.
First and foremost, this pet stroller has the highest weight capacity among its competitors, with a maximum capacity of 35 lbs. You can carry around three small puppies or one large dog in this animal stroller.
As if that wasn't enough, this pet carriage design is spacious and offers a comfortable ride. The front and back mesh windows enhance the airflow and your pet's experience.
While we are talking about the mesh windows, the front one is big. One big benefit of having that big mesh window is that your pet can enjoy the view without needing to stand up.
However, if your dog is sensitive to light, you might need to look for a different product on this list.
Lastly, the No-Zip Happy Trail has four tires in the front and two in the back. Doubling the tires in the front betters the balance and offers a smooth ride.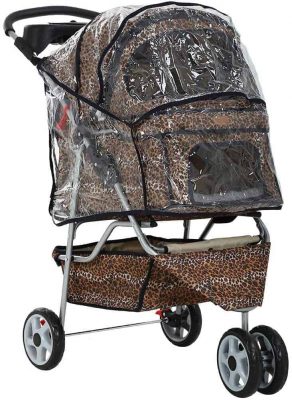 All Terrain Extra Wide 3 Wheels Dog Stroller
---
Maximum weight capacity: 33 Lbs.
Stroller Weight: 11 Lbs.
Entry: Zipperless
Material: PVC high-density oxford cloth, mesh, and aluminium
If you are looking for a dog stroller that is not only affordable but also lightweight, then there's nothing better than this All Terrain Extra Wide 3 Wheels Dog Stroller.
However, just because the stroller is lightweight doesn't mean it is made with low-quality matter. The All-Terrain Extra wide dog stroller has a high-quality aluminium frame. This frame gives the stroller its shape and offers durability.
As if that wasn't enough, the product offers more. In addition to being lightweight, this dog stroller has one of the highest maximum weight capacity. So, you can either carry a 30 lbs. dog in this stroller. Or, you can also use this to carry multiple puppies. As the stroller is quite spacious, fitting two small pups wouldn't be a problem.
If you live in a city which gets lots of rain, then that's not a problem. Why? Let us explain.
To start with, most of this affordable All-Terrain dog stroller is made of high-density oxford fabric. Now, this fabric is famous for being durable and water-resistant. So, your dog will be safe if it suddenly started raining.
Secondly, the product comes with a rain cover specifically made for the stroller. It covers the stroller perfectly and prevents the stroller from getting wet.
One of the features that we love about this dog stroller is that the rear wheels have a safety brake. Now you can park the stroller without worrying about it moving.
Lastly, the All-Terrain dog stroller comes with a 12-month warranty because your satisfaction is necessary.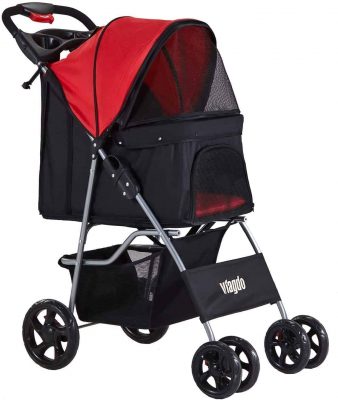 VIAGDO Dog Stroller
---
Maximum Weight Capacity: 35-38 Lbs.
Stroller Weight: 13 Lbs.
Entry: Zipperless
Material: High-density oxford fabric and mesh, stainless steel
This whole list consists of one of the best dog strollers under $100. But the VIAGDO dog stroller is the least expensive of our selection. 
Even though it is the least expensive, this dog stroller offers as many features as any other product on the list.
In terms of weight, this dog stroller is quite lightweight. It might not beat the All-Terrain dog stroller. However, 13 lbs. is still easy to push.
Most of this dog stroller's weight comes from its steel frame. Yes, steel is heavy. But it also offers durability and longevity, which is a plus.
When it comes to maximum weight capacity, this dog stroller is not behind in the game. You can carry a medium-size dog in the VIAGDO dog stroller easily.
What made this dog stroller stand out among the hundreds of options was not its weight capacity but its unique design. Under $100, you can get a 3 level canopy dog stroller.
The benefit of this 3 level canopy is that you can change the stroller's top according to your need. So, for instance, if your dog is sensitive to sunlight, the canopy can cover the top completely.
Lastly, one feature that VIAGDO dog stroller contains that makes it worth your money is the safety brake. Just like the dog stroller above, this one is also safe to park. Put on the brake, and the stroller won't move an inch.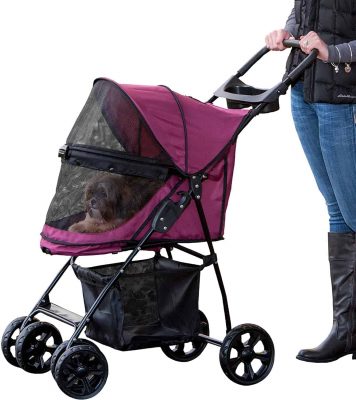 Pet Gear No-Zip Happy Trails Lite
---
Maximum Weight Capacity: 25 Lbs.
Stroller Weight: 11 Lbs.
Entry: Zipperless
Material: Not specified
If your puppy loves to go out and enjoy the view, then the Pet Gear No-Zip Happy Trail Lite will serve it well. Like the other Pet Gear dog stroller on this list, the lite version also has a panoramic window. This huge mesh window doesn't only improve the airflow but also lets your dog enjoy the best view possible.
Having a huge window is not the only thing Pet Gear Happy Trail Lite offers. You might ask what you will get?
Well, let's start with this pet stroller's construction. To start with, this product is made of lightweight material. Hence it weighs only 11 lbs.
Unfortunately, the maximum weight capacity of Pet Gear Happy Trail Lite is lesser than its competitors. You can only carry a pet of around 25 lbs. This is still a workable limit for small to medium size dogs.
This pet stroller also features a 3 level canopy design that we talked about earlier.
In addition to that, one thing that we live about Pet Gear No-Zip Happy Trail Lite is its tires. This stroller has air ride tires. One benefit of having air ride tires is that it stabilizes the ride and prevents vibration.
We recommend this pet stroller for people who like to take dogs on jogging or long walks with them due to these tires. The lightweight stroller will offer you comfort. Meanwhile, the air ride tire will make the ride comfortable for your fur baby.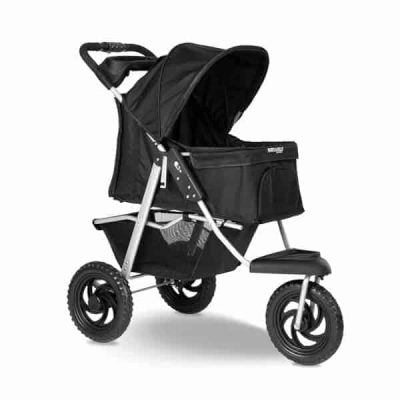 Paws & Pals 3 Wheeler
---
Maximum Weight Capacity: 33 Lbs.
Stroller Weight: 21 Lbs.
Entry: Zippered
Material: Not specified
Are you looking for an affordable dog carriage for puppies? Well, this one might be it. This Paw and Pal 3 wheel dog stroller features a compact design that suits little puppies.
The weight of this puppy carriage is more than the rest of our recommendations. However, the three-wheel design and high-quality tires make it easier to push this pet stroller.
In addition to that, the ergonomic telescoping handle allows you to adjust the height of the handles to suit your height.
But, what is in it for your fur baby?
Well, to start with, this dog stroller has multiple mesh windows. These windows offer a good view and enhance the airflow and make the ride more comfortable.
Furthermore, the hooded peak top makes the compact stroller feel more spacious from the inside. So, your puppy can even stand on its four paws without touching the top.
Unlike most of the other recommendations on our dog strollers under the $100 list, this one has a zippered entry.
A Zipperless entry is convenient and quick. However, this zippered entry is as convenient and secured as any other option available.
Another feature that can make the stroller safer for your dog and ease up your life is the parking brake. Now you won't have to hold the stroller or worry about it moving constantly.
Buying Guide: Dog Stroller under $100
When it comes to dog strollers, you need to be careful. A poorly made pet stroller is not only a waste of your money but it can also make the ride uncomfortable for your puppy.
So, what should you look for in a pet stroller?
It's simple. You need to look for your and your dog's comfort.
Start with checking if the dog stroller has features such as padded inside, mesh windows, waterproof fabric, etc.
In addition to that, the canine stroller should have ergonomic handles and a lightweight body for your comfort.
Lastly, check the price to see if it's under your budget or not.
Frequently Asked Questions
Can you use a baby stroller for a dog?
A pet stroller allows your dog to travel with you to different places. In theory, you can reuse an old baby stroller for your dog. However, make sure the baby stroller is in good condition. Or the ride would be uncomfortable for your fur baby.
If you're interested in reading more, we have written a full article on can I put my dog in a baby stroller..
Are dog strollers allowed in stores?
It depends on the store owner. Some stores are dog-friendly and don't mind a dog stroller in the store. Meanwhile, others put restrictions on taking your dog to their premises but it is always a good idea to check beforehand if the store allows dog strollers or not.
How much does a dog stroller cost?
The price of a dog stroller varies from brand to brand. The features also affect how much your pet stroller would cost. For instance, a dog stroller with waterproof fabric would be more expensive than one, which isn't waterproof.
But on average, you can get a good pet stroller from $40 to $300.
If you are interested in the best dog strollers under $50, we have some recommendations for that on our website.
Conclusion
With that, we are at the end of the article. All dog strollers mentioned above are equally competent and worth your money. 
However, if you are still unsure which pet stroller to get, we can help you out.
If you are looking for a lightweight, spacious yet spacious dog carriage with 30+ lbs. weight capacity, then you should check out Pet Gear No-Zip Happy Trails. The product has 35 lbs. Of maximum weight capacity and weighs only 11 lbs. Itself.
But what if you want to get a dog stroller that features a built-in leash for extra security? Say no more. The VIAGDO dog stroller is just that and more.
We hope you find the best dog stroller under $100 for your pet. Happy shopping.